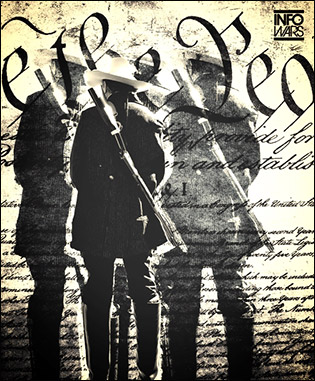 Infowars.com | Police did not file an incident report and would not say who the two men responsible for the flight were.
Paul Joseph Watson | Information hub would detect potential future criminals and allow government to "intervene".
Steve Watson | Two year battle against government ends in victory for mother who was locked in glass cage
William Norman Grigg | Cliven Bundy and his family were hardly the first Nevada ranchers to confront federally licensed cattle rustlers.
Kurt Nimmo | Cites example of South Ossetia and war between Georgia and Russia.
Paul Joseph Watson | Purchase of MREs, flashlights & ammunition is a "suspicious activity".
Michael Snyder | Why is the federal government so obsessed with grabbing more land?
Breitbart | "I am about ready," General Abbott told Breitbart Texas, "to go to the Red River and raise a 'Come and Take It' flag to tell the feds to stay out of Texas."