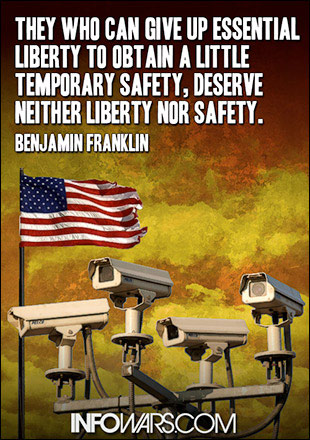 Infowars.com | Yet another example of the gov't abusing "terrorism" rhetoric.
Michael Snyder | The dumbing down of America is accelerating.
Infowars.com | Discussing the ever increasing encroachment of a tyrannical police state.
Infowars.com | Sen. Rand Paul (R-Ky.) and rancher Cliven Bundy have a response to Sen. Harry Reid (D-Nev.), who declared all Bundy supporters to be "domestic terrorists."
Daily Caller | The 1995 report, titled "The Communication Stream of Conspiracy Commerce," describes the Internet as a new method of communication "employed by the right wing".
Reuters | The Kremlin on Friday described as unacceptable a U.S. threat to impose sanctions.
TechDirt | A college professor who had recently been at odds with his school's administration was just suspended for posting a picture of his child wearing a Game Of Thrones t-shirt.
Zero Hedge | The increased wealth of highly skilled workers, the insane wealth of those with capital, and the outsourcing of lower skilled jobs have left us all asking, "what happened to the middle class?"