Aaron Dykes
Infowars.com
August 4, 2010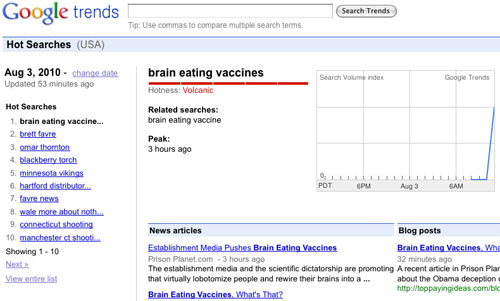 For yet another occasion, an important search term from the Alex Jones Show, "brain eating vaccines," has topped to Google's hot trends tracker as the number #1 term this August 3rd.
The term was coined to bring attention to a special video presentation (see below) warning about new rounds of 'live virus' vaccinations being developed for drug addiction, stress and more that affect the brain. The vaccine contains a number of chemically-harmful compounds, yet is being injected into innocent people across the country. Moreover, major news outlets have been advocating the use of other deadly chemicals in public water supplies and/or food products including lithium, Prozac, mercury, fluoride and other yet-to-be developed "cognitive enhancements." Meanwhile, even more potentially harmful vaccines, like DNA-vaccines that the Army hopes to air-blast directly into cells, are being developed as a solution to novel virus and flu strains, and other potential pandemic outbreaks.
The focus on vaccine dangers– including their tendency to make zombies of the population and lobotomize previously intelligent individuals– has prompted attack pieces, including the one published by Jonah Lehrer of Wired Magazine, who calls Alex Jones a liar and denies the risk of vaccines. The same claims were made about the H1N1 vaccine when Alex Jones and other leading alternative researches identified the 'pandemic' hype as a hoax to sell vaccine stocks and impose an untested formula created with cancer cells– now Wolfgang Wodarg at the Council of Europe has exposed that it was a false panic deliberately-fueled by WHO officials and vaccine industry representatives.
Eat like a king, stock up at eFoodsDirect today!
Research it for yourself; vaccines aren't safe. Please share this important video, spread the search term 'brain eating vaccines' and let writers like Jonah Lehrer at Wired know what you think about their deadly lies.