Update: Clark Co. Sheriff Announces BLM 'Will Cease Operation,' Cattle Released
Infowars.com
April 12, 2014
Update: Video Recap: Patriots Confront BLM & Show How to Take Country Back
Update: Feds Back Down In New Bundy Standoff, Agree to Release Cattle
UPDATE (3 PM CST): According to Infowars reporter David Knight, who is on location, the BLM is standing down and will be releasing Cliven Bundy's cattle shortly. This comes after reports the BLM was announcing they were ready to fire on protesters if they attempted to seize the rancher's cattle.
When Alex Jones learned the BLM had threatened to shoot protesters, he put out the following emergency news bulletins:
First Video Of Fed Standoff In Nevada:

Emergency! Feds Tell Crowd They Will Shoot Them:

On Saturday, Clark County Sheriff Douglas C. Gillespie announced that the Bureau of Land Management would cease their persecution of cattle rancher Cliven Bundy. He also stated that Bundy's cattle would be allowed to graze on the disputed land.
In an emotional response, Bundy doubled down and issued the Sheriff an ultimatum, giving him one hour to disarm the federal agency, to bring the arms to the protest site to be destroyed, and to remove their barricades and checkpoints.
When Bundy's expectations were not met, protesters drove down to the site where his cattle were being held to demand their release:
The situation remained volatile. Citizens were eager to take back the rancher's cattle, while police imposed a barricade on a stretch of I-15 and even threatened to shoot protesters if they attempted to seize the stolen property, according to reports:
Go to 3:39 in the video to learn about the feds' threatening to shoot people.
RELATED: Bundy Demands Sheriff Disarm BLM, Supporters Vow to Seize Back Cattle as Showdown Looms
RELATED: Feds Back Down From Bundy Siege After Infowars Exposé of Chinese Land Grab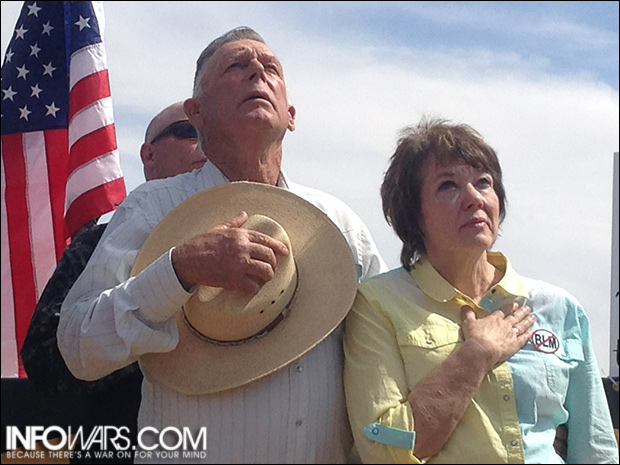 Get up to speed with Infowars' timeline of reports regarding the Bundy Ranch standoff.