Andrew Steele
America 20xy
July 20, 201
In response to having the most watched version of his film The Obama Deception mysteriously deleted from an affiliated YouTube director page, as well as his other film Police State 4: Rise of FEMA, radio host Alex Jones instructed his listeners yesterday  to search the term "Obama Deception Censored" as many times as possible in order to push it up to the top spot in Google's search ranking.  Listeners from all over the country (and even other countries I can personally affirm) took part.
In the end it worked.
By late last evening the search term was number one, as the screen print below shows.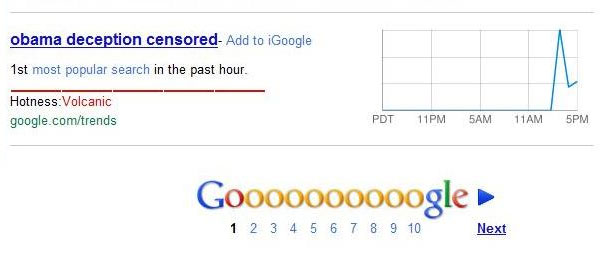 This counter-attack did more than send a message to the Internet search giant– who owns YouTube– by showing it the power of Jones' liberty loving listeners, but as Jones stated in his broadcast, it also made the subject of Google's censoring the film the focus of many blogs.  This is because bloggers watch Google's search trends and write stories on the top search topics in order to gain traffic.  Numerous articles appeared in the searches shortly thereafter, the authors bringing attention to the issue and curiously asking why Google censored the film.
A d v e r t i s e m e n t
Certainly it wasn't good publicity for Google or President Obama, whose name is in the title of the censored movie.
Today Jones' movies were restored to the YouTube channel, which is run and administered by a listener, along with other films that had been mysteriously deleted in the past.  Proof that Jones' team didn't simply delete the films and then upload them again comes from the fact that their view counts were the same as before they disappeared, whereas a new upload would have set them back to zero.
As of this writing the movie is back up, free to watch (and pasted below).
If deleting Jones' films was a test balloon sent up by Google to gage what kind of  response such an action would invite, it got its answer.  Thanks to the mass awakening taking place through the Internet and around the world, not even petty attacks like the hack of Jones' page can stop corporate machines like Google from backing down when ordinary people take it upon themselves to flex their collective muscle.
No doubt the empire will eventually strike back again, but at least now it knows what resistance awaits it.
"Courage and perseverance have a magical talisman, before which difficulties disappear and obstacles vanish into air."
–John Quincy Adams
This article was posted: Tuesday, July 20, 2010 at 8:15 am
---
---
---
---