Kurt Nimmo
Infowars.com
October 20, 2011
****WARNING: Graphic photos posted below.
The corporate media is going into paroxysms over the supposed death of Muammar Gaddafi without much evidence beyond a couple blurry video captures taken from a cell phone.
So far, there has been zero independent verification of the claim. The NTC – otherwise known as al-Qaeda – said earlier today it has whisked off the body to a secret location for "security reasons."
Despite the lack of evidence, the corporate media is now accepting Gaddafi's death as fact. This is the same media that accepted the unconfirmed death of Osama bin Laden and told us Saddam had aluminum tubes of mass destruction.
Meanwhile, as the corporate media parades the morbid image and celebrates murder, the Green Charter Movement in Jamahiriya claims Gaddafi is alive. From Gaddafi's very own propaganda outlet, the Mathaba News Agency:
Green Committees have confirmed that the leader is alive, and that the enemy is seeking to take advantage of his being currently out of communications. The aim is to please Hillary Clinton who barked at her Arab slaves that she wants Muammar Qaddafi "dead or alive."
A d v e r t i s e m e n t
Mathaba claims "NATO and Clinton are desperate to show a 'victory' in Libya, by way of a compliant media, and the NTC is anxious to provide that 'victory' for their masters, in order to secure further support. The NTC leaders and their factions are all fighting amongst each other, and are dissatisfied with the spoils, which so far have not been forthcoming due to the armed population putting up a fierce resistance, and the globalist bankers being unable to keep their promises to the Libyan traitors."
Minus any evidence either way, this makes as much sense as al-Qaeda's boast that it captured Gaddafi and he died as a result of wounds suffered as a result of a NATO assault on his convoy attempting to flee the heavily damaged city of Sirte.
Gaddafi's body will probably never be offered by NTC-Qaeda for independent verification. In the days ahead, the government and the establishment media will declare victory, Clinton and Obama will make speeches, and Libya will descend into chaos because, as Rumsfeld said about Iraq, "democracy is messy."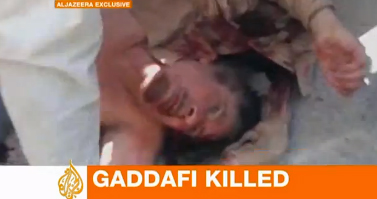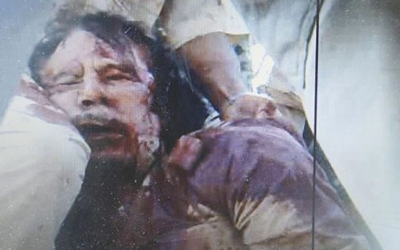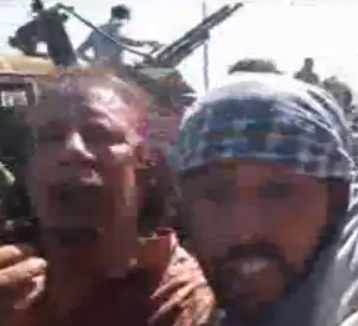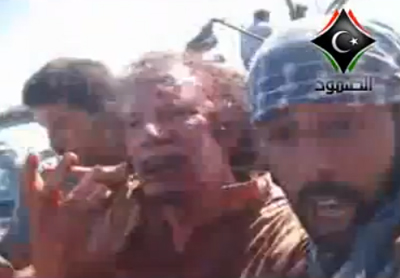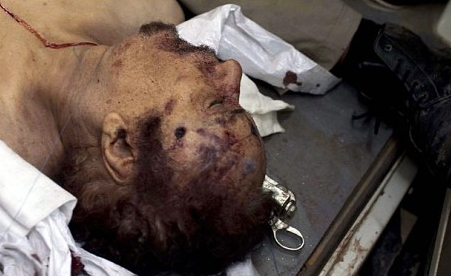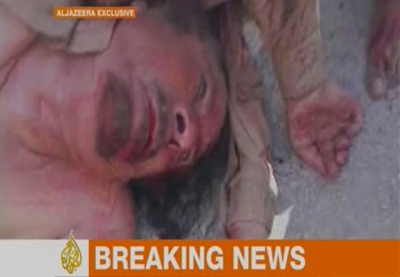 This article was posted: Thursday, October 20, 2011 at 12:03 pm
---
---
---
---