Infowars.com
September 10, 2010
The FederalJack website has posted a video and form today revealing how the government is attempting to categorize veterans as mentally ill. The video and form follow.
A d v e r t i s e m e n t
In 2007, HR 2640 was introduced by notorious gun grabbers Carolyn McCarthy and Patrick Leahy, both Democrats (Leahy introduced his bill in the Senate).
"Anyone who is diagnosed as being a tiny danger to himself or others would have his gun rights taken away … forever. It is section 102(b)(1)(C)(iv) in HR 2640 that provides for dumping raw medical records into the system," Larry Pratt, executive director of of Gun Owners of America, wrote when the bill came to light. "Forget the fact that people with PTSD have the same violent crime rate as the rest of us. Vietnam vets with PTSD have had careers and obtained permits to carry firearms concealed. It will now be enough for a psychiatric diagnosis (a 'determination' in the language of the bill) to get a veteran barred — for life — from owning guns"
On June 13, 2007, the bill was passed in the House and on December 19, 2007, the Senate version was passed.
Fresh food that lasts from eFoods Direct (Ad)
Now the doctors are told they have to fill out the "Patient Health Questionnare" (sic) below. If this is in fact a legitimate document, it will facilitate the effort to disarm America's veterans.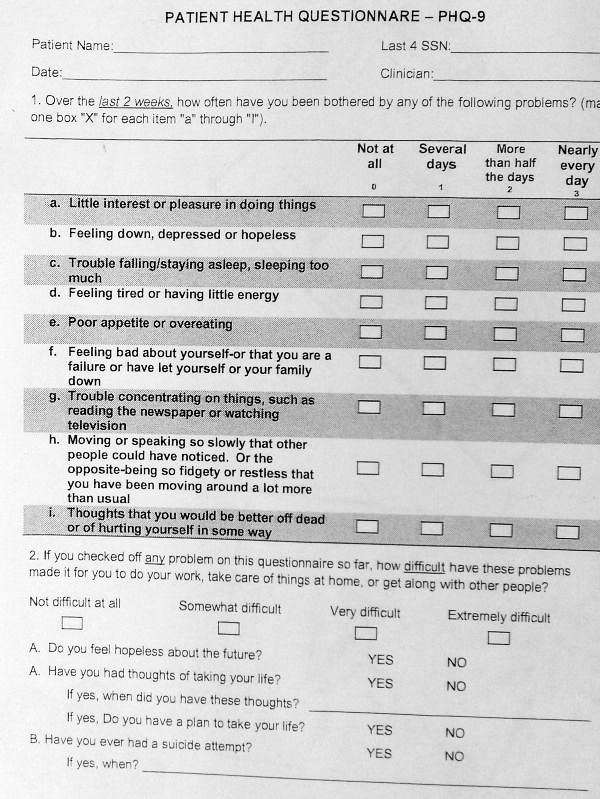 This article was posted: Friday, September 10, 2010 at 7:07 am
---
---
---
---