Announcing the First Ever Infowars Drone Mob and Video Contest!

UPDATED DETAILS BELOW
Infowars.com
November 29, 2012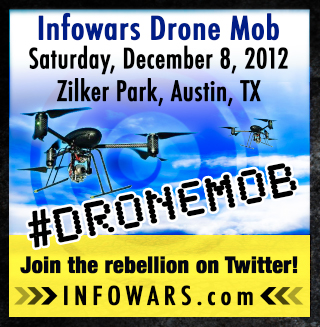 Infowars is announcing the first ever drone mob event at 11 a.m. Saturday, December 8, 2012 at Zilker Park, 2100 Barton Springs Road, in Austin, Texas.
The Federal Aviation Administration (FAA) has announced there may be 30,000 drones over American skies by 2020, and now Congress is actually pushing the FAA to hand drone oversight to the Department of Homeland Security.
This continuous shift of power away from the people via drones has sparked the Infowars Drone Mob event as a way to spotlight this egregious government overstep. Anyone who wants to take a stand for freedom can join the Infowars Crew here in Austin, bring their own drone to fly and grab a ticket for some amazing free giveaways.
Alex is also announcing a $1000.00 prize for the best drone video filmed at the event. Participants will have two weeks to upload their videos to YouTube for consideration. Rules to follow.
This is legal and lawful fun to get the word out; please bring small drones that will be flown below FAA regulations. If Big Brother is going to fly drones over us, we will take a stand and show that We the People can fly drones as well.
Can't make it to Austin for the event? Join the conversation on Twitter and use the hashtag '#DroneMob' to spread the word and post drone articles, photos and more.
Stand up for your freedom 11 a.m. December 8, 2012 with Infowars: #DroneMob.
MAP TO MEETING LOCATION BELOW IN THIS VIDEO @ 0:55:
For more news on drones:
You remember last time when Infowars showed a drone being shot out of the sky in the Brothers in Arms series? That won't happen this time. The Infowars Drone Mob is just people flying small drones for freedom.
Here is a just smattering of drone news from the past year:
Government Documents Prove Domestic Drones Are For Spying On Americans
Obama Created A 'Drone Rulebook' Just In Case He Wasn't Re-elected
Obama Pardons Thanksgiving Turkey, Continues Unaccountable Drone Killing
Armed Drones to Patrol Highways by 2025
CIA Claims It Needs More Drones
Half of Military Drones May Broadcast Unencrypted Footage
New DARPA Smart Drones Use "Brains" To Dodge Obstacles
Conditioning? Xbox Poll Shows Overwhelming Gamer Support for "More" Drone Strikes
Pentagon Boss Announces Expansion of Drone and Commando War in Africa
Clinton Wants more Powerful Drone Surveillance Technology to Find Kony
Drone Strikes Hit Terror Suspects in Northern Yemen
Drones to be Armed With Mini-Smart Bombs
Sheriff Wants Drones To Peek Inside Buildings
Drone-murders of Americans 'Totally right, totally Constitutional': Homeland Security Chairperson
Drone Used To Spy On Miami Partygoers
US Drone Strikes Target Rescuers in Pakistan – and the West Stays Silent
Portrait of a Drone Killer: 'I Have a Duty, and I Execute My Duty'
Robotics Professor Warns Drones Will "Lead To A Sanitised Factory Of Slaughter"
'United Nations Wants to Use Drones'
DHS To Test Spy Drones For "Public Safety" Applications
Almost Half Of All Americans Support Domestic Surveillance Drones
Big Sis Loaning Out Military Style Drones To Sheriffs Departments: Privacy Group Sues
CBP Plans to Buy 14 More Predator Drones
Seattle Police To Roll Out Surveillance Drones with Infrared Cameras
GAO: Agencies Should Address Drone Security and Privacy Concerns
Pentagon Tests Drone at Civilian Airpark in Ohio
Spy Drone Buzzes Journalist's Secluded Home
DRONE: Rise of the Autonomous Super Soldier
Texas College Hacks Drone in Front of DHS
Drone Fever: U.S. Drone Manufacturers Pour Millions into Congressional Campaigns
Rise of the Machines: "A Drone in Every Home"
Vote Obama For Unaccountable Drone Warfare. Vote Romney For Unaccountable Drone Warfare.
Police Chiefs Adopt Drone Code of Conduct
Protesters Question New Drone Facility
US 'Secret' Drone Base and Ron Paul's Foreign Policy
FAA Releases Thousands of Pages of Drone Records
At America's Biggest Drone Show, the Focus Shifts Toward Domestic Skies
Pakistan Interior Minister: 80% Killed By Drones Are Innocents
Pakistan's Anti-drone Campaigner Imran Khan Removed from US Airline for Interrogation
Domestic Spying: Mini-Drone Can Watch Neighbors From Above
California Sheriff's Dept Wants Surveillance Drone To "Track Suspects With Guns"
Receive The Underground Insider!
---
Infowars.com Videos: