Kurt Nimmo
Infowars.com
March 18, 2011
Editor's note: Kadafi attempts to preempt the globalist scheme by ceasing all military action and declaring it will start talks with rebels.
The Pentagon has deferred to France, Britain, and a handful of corrupt Arab oil sheikdoms following a unanimous vote at the United Nations to bomb Libya. The world's premier war-making outfit will allow the Europeans and the Arabs take the lead in killing Libyans.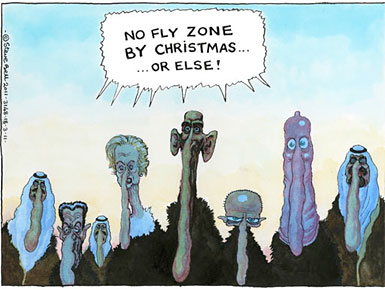 The United States "has been largely mum on what its role will be in the attacks, and while they have deployed some additional ships and aircrafts to the region it is unclear exactly how far they will go in attacking targets within Libya," writes Jason Ditz.
India, China, Russia, Brazil and Germany abstained from voting.
China said it has "serious reservations" about killing Libyans (the authoritarian slave labor gulag however does not show such reluctance when it comes to killing its own citizens and selling their internal organs).
"We oppose the use of force in international relations and have some serious reservations with part of the resolution," Foreign Ministry spokesperson Jiang Yu said in a statement.
On Thursday, French Foreign Minister Alain Juppe was enthusiastically rattling his saber even before the quisling junior partners of the globalists voted to commence with murder.
"We and our partners are preparing the follow-up decisions,' Juppe told reporters. "France and other countries are ready to put into action the resolution of the Security Council. It's very important that Arab countries become involved in the intervention when it takes place."
The globalists will use the Arabs to crush Libya and kill Moammar Kadafi – or ultimately deliver him to the gallows like the former CIA asset Saddam Hussein. Qatar and the United Arab Emirates – both heavily involved in snuffing out demonstrations in Bahrain and rounding up activists in typical fascist fashion – are also expected to take a role soon in the attack on Libya.
"There will be participation by Qatar and the United Arab Emirates. That has been confirmed at the Security Council," a faceless UN bureacrat proudly announced.
A d v e r t i s e m e n t
David Cameron will follow his predecessors – most notably Tony Blair – and enter the pantheon of war criminals. The British PM will deliver a pro-war speech today and the House of Commons will go through a stale formality and vote to rubber stamp the looming mass murder campaign.
On cue, the price of crude oil shot up following the globalist vote to bomb the African nation, home to much sought after sweet crude that is easily refined.
U.S. crude futures, which had jumped $3.44 to $101.42 a barrel in regular trading prior to the UN vote, were trading at $102.94 a barrel at about 8:15 p.m. PDT yesterday evening. The price of oil in London was at $116 a barrel, up $1.09.
Earlier this month, oil prices hit a two-year high of $105.44 a barrel on the excuse of unrest in Libya and the Middle East. It moved back down to $97.18 on Tuesday, in part on predictions that Japan's earthquake will significantly dampen the country's oil demand in the short term by reducing industrial production.
Stock up with Fresh Food that lasts with eFoodsDirect (Ad)
–
Kurt Nimmo edits Infowars.com. He is the author of Another Day in the Empire: Life In Neoconservative America.
–
Alex Jones and Midas Resources has come together to offer you three of the most hard hitting videos ever produced: End Game, Obama Deception, and Fall of the Republic.
After viewing this collection you will know who is pulling the strings of our puppet government. It's not about Left or Right: it's about a One World Government. The international banks' plan to loot the people of the United States and turn them into slaves on a Global Plantation.
If you want to know the facts and cut through all the hype, this eye-opening film collection is for you. For a limited time this collection is being offered with three constitutional silver dollars, the real money our for-fathers intended for us to use. Order this special collection today and get the perfect solution to the perfect economic storm.