Jake Tapper
ABC News
May 21, 2011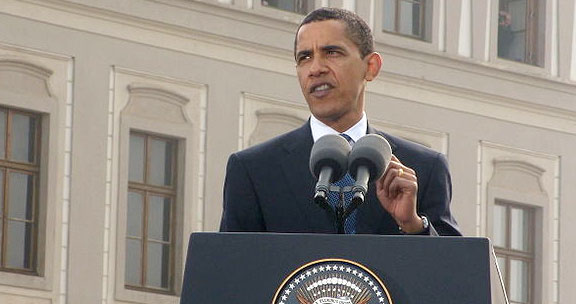 President Obama, source Wikimedia Commons
In an effort to satisfy those arguing he needs to seek congressional authorization to continue US military activity in accordance with the War Powers Resolution, President Obama wrote a letter to congressional leaders this afternoon suggesting that the role is now so "limited" he does not need to seek congressional approval.
"Since April 4," the president wrote, "U.S. participation has consisted of: (1) non-kinetic support to the NATO-led operation, including intelligence, logistical support, and search and rescue assistance; (2) aircraft that have assisted in the suppression and destruction of air defenses in support of the no-fly zone; and (3) since April 23, precision strikes by unmanned aerial vehicles against a limited set of clearly defined targets in support of the NATO-led coalition's efforts."
A senior administration official told ABC News that the letter is intended to describe "a narrow US effort that is intermittent and principally an effort to support to support the ongoing NATO-led and UN-authorized civilian support mission and no fly zone."
"The US role is one of support," the official said, "and the kinetic pieces of that are intermittent."
Republican senators press president on War Powers deadline
Dana Bash
CNN
May 21, 2011
Washington (CNN) – As the U.S. military campaign in Libya approaches the 60-day mark this Friday, six Republican senators wrote President Obama asking if he will comply with the War Powers Act, which says Congress must authorize action that lasts more than 60 days.
"Friday is the final day of the statutory sixty-day period for you to terminate the use of the United States Armed Forces in Libya under the War Powers Resolution. Last week some in your Administration indicated use of the United States Armed Forces will continue indefinitely, while others said you would act in a manner consistent with the War Powers Resolution. Therefore, we are writing to ask whether you intend to comply with the requirements of the War Powers Resolution. We await your response," wrote the GOP senators Wednesday.
The letter was signed by Sen. Rand Paul, R-Kentucky, Sen. John Cornyn, R-Texas, Sen. Tom Coburn, R-Oklahoma, Sen. Jim DeMint, R-South Carolina, Sen. Ron Johnson, R-Wisconsin, and Sen. Mike Lee, R-Utah.
The GOP senators said they believe the president already violated part of the War Powers Act – which says the president's constitutional powers allow him to only deploy troops into "hostilities" with a declaration of war, specific authorization from Congress or a national emergency caused by an attack on the U.S.
This article was posted: Saturday, May 21, 2011 at 11:25 am
---
---
---
---