cryptome.org
August 4, 2013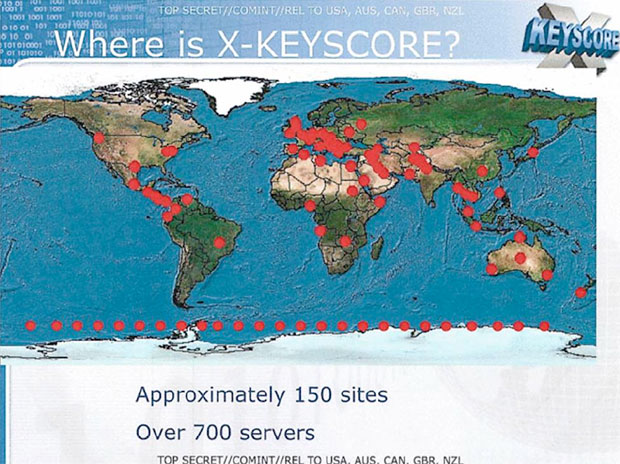 While some server sites are known NSA-Echelon spy stations of the Five-Eyes — US, UK, CA, AU and NZ — many of the server sites are shown at, or near, national capitals. These may be symbolic locations or, intriguingly, may indicate X-Keyscore servers at US embassies.
A surprise is the dot at Moscow. Another is a site shown in south-central China, far from Beijing, located nowhere obvious (a long-shot: it's a covert server).
The NSA station in Hawaii where Edward Snowden worked is not shown on the map.
There are about 85 red dots on the site map which claims "approximately 150 sites," with 25 of the dots along the Antarctica coast.
Dots appear to be shown in 51 countries, plus seemingly circumscribed Anarctica. The densest concentration is in Europe, Middle East, South Asia, Central America. But none shown in top of the world, CA, NO, SW, IS, PT, most of South America, the Pacific and Atlantic islands, a slew of others.
Americas
Europe
Africa
Middle East
Central Asia
Asia
South Asia
US, about 4
Mexico
Honduras
Costa Rica
Panama
Venezuela
Colombia
Ecuador
Brazil
UK, about 3
France
Germany
Austria
Italy
Spain
Poland
Belarus
Russia
Romania
Greece
Czech Republic
Perhaps others
Algeria
Morocco
Egypt
Sudan
Somalia
Cameroon
Namibia
Zimbabwe
Saudi Arabia
Turkey
Iraq
Kuwait
Bahrain
Qatar
United Arab Emirates
Uzbekistan
Kyrgyzstan
Aghanistan
Pakistan
India
Japan
China
Philippines
Myanmar
Thailand
Cambodia
Malaysia
Australia, 4
New Zealand
Receive The Underground Insider!
---
Infowars.com Videos: