Peter Baker and Michael R. Gordon
New York Times
December 3, 2012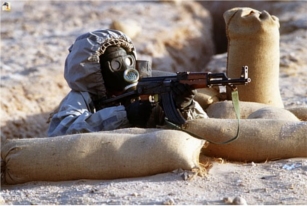 Photo by Unknown author, via Wikimedia Commons
The Obama administration said Monday that it is worried that Syria's embattled government may be preparing to use chemical weapons against the opposition and warned that doing so "would cross a red line for the United States" and prompt American action.
The White House said that some recent actions by the government of President Bashar al-Assad were indicators that such weapons could be deployed soon, following earlier reports that intelligence agencies had noticed signs of activity at chemical weapons sites.
"We have an increased concern about the possibility of the regime taking the desperate act of using its chemical weapons," said Jay Carney, the White House press secretary. He said such a move "would cross a red line for the United States. The Assad regime must know that the world is watching and that they will be held accountable by the United States and the international community if they use chemical weapons or fail to secure them."
Receive The Underground Insider!
---
Infowars.com Videos: