Aaron Dykes
Infowars.com
November 3, 2010
Questions remain over whether Harry Reid and his cronies may have manipulated the vote in Nevada, as his 5-point victory remains suspiciously inconsistent with pre-election polls showing Sharron Angle with a 4-point lead.
'Steal Nevada' reached number #1 on Google Trends today, November 3, following post-election analysis and a prompt on the Alex Jones Show. Paul Joseph Watson & Alex Jones urged that "a serious investigation into potential vote fraud needs to be launched immediately" in their key article 'Did Harry Reid Steal Nevada.'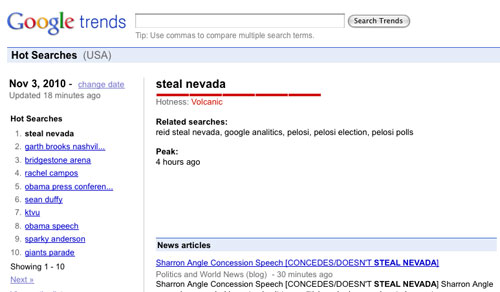 In particular, suspicions have been raised after early voting reports alleged that machines in Clark County were auto-selecting Reid, the very county where Rory Reid, the Senator's son, is county commissioner. In Clark County, a pro-Reid union also holds contracts to maintenance the voting machines.
A d v e r t i s e m e n t
Further, Sharron Angle's campaign attorney Cleta Mitchell warned ahead of time that Harry Reid would "steal this election if he can't win it outright." Harry Reid played down the discrepancy between the polls leading into the election and the outcome today by blasting "false and misleading polls," insisting he knew all along that 'the polls were wrong, that he was going to win." Is he trying to offset any inquiries into the unaccountable outcome? The NY Times quoted him as saying:
"I've been wanting to say this for some time: we've got to do something about these misleading polls," Mr. Reid said as he met with reporters here. "They are all over the country, they are so unfair, and you just gobble them up — no matter where they come from. You just run with them as if they are the finest piece of pastry in the world. They are false and misleading, and people pay for those polls, so you use them."
Having A Supply Of Healthy Foods That Last Just Makes Sense. Visit eFoodsDirect today. (AD)
Thanks to listeners and supporters for their role in making sure these serious allegations of voter fraud are not swept under the carpet as post-election analysis, celebration and/or spin takeover in the mainstream media.
—————-
Aaron Dykes is frequent writer for Infowars.com and webmaster aat JonesReport.com. He is also a videographer, researcher and editor who has worked on numerous documentaries and video reports.