Infowars.com
July 5, 2012

The recent passage of Obamacare lends new fuel to our "Obama is Dictator Scum" claim. It is now more important than ever that we display our disgust for the blatant tyranny and total disregard of constitutional values exemplified by the Obama Administration.
Here's a quick recap of the Phase 2 rules: Win $10,000 by producing a poster and a video of its placement in a lawful public commons area. The poster must stress the tyranny of Obama and include the Infowars.com web address. The deadline is July 6, 2012, at midnight CST.
Here's a look at some great poster suggestions. Use these or create your own: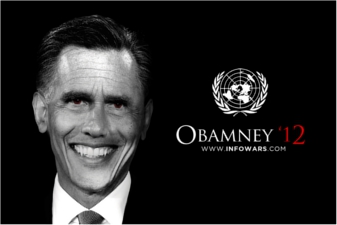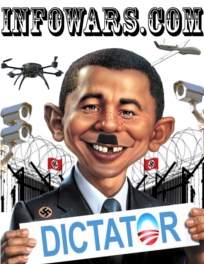 These were the Phase 1 winners and runner up entries. Entries and winner of the Phase 1 contest will be eligible for the Phase 2 contest as well. Alex would like to note that the runner up received a consolation prize of $1,000 at his discretion. A consolation prize may not be awarded in Phase 2.
1st place WINNER $5,000 – * INFOWARS * Stop Dictator Obama Contest – nfcjosh

2nd place Runner Up $1,000- Infowars Obama Dictator! -ra2day

And here are entries we've received since the end of Phase 1:
Obama, the murdering, scum, dictator contest ! – Infowars –

Alex Jones – Stop Dictator Obama NWO, and Spy Drones too!

Dictator Scum contest Montreal Canada.wmv

Alex Jones Stop Dictator Obama – The many faces behind his current Dictatorship.

Infowars Obama Poster Submission-Willow Grove District Courthouse

Obama Infowars contest

Obama poster over 101 freeway.

Dictator Barry

Stop the Dictator Contest

Stop Dictator Obama contest entry



Infowars.com Obama challenge part 1

Phase 2′s contest deadline is tomorrow night at midnight.
Send your video submissions to: contest@infowars.com.
Other Entries:
Phase 1 Entries: "Stop Dictator Obama" Contest Video Entries – Public Fights Back Against the Tyrant Obama.
Phase 1 Entries: "Free Speech in the Face of Tyranny – Final "Stop Dictator Obama" Contest Phase 1 Entries Part 1″
Phase 1 Entries: "Free Speech in the Face of Tyranny – Final "Stop Dictator Obama" Contest Phase 1 Entries Part 2″
This article was posted: Thursday, July 5, 2012 at 8:35 am
Tags: activism
---
---
---
---