AP
December 3, 2012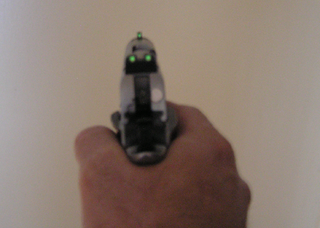 Handgun showing self lighting Tritium sights, commonly referred to as night sights. (Photo by Wiki Phantoms (Own work), via Wikimedia Commons)
Should veterans deemed too mentally incompetent to handle their own financial affairs be prevented from buying a gun?
The issue, for a time last week, threatened to become the biggest sticking point in a $631 billion defense bill for reshaping a military that is disengaging from a decade of warfare.
[...] "I love our veterans, I vote for them all the time. They defend us," [Sen. Charles] Schumer said. "If you are a veteran or not and you have been judged to be mentally infirm, you should not have a gun."
Receive The Underground Insider!
---
Infowars.com Videos: