Jim Edwards
Business Insider
March 14, 2013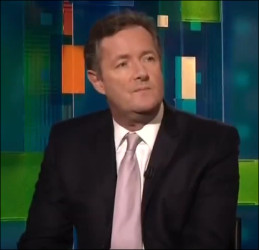 Five employees who worked at The Trinity Mirror newspaper group — part of Rupert Murdoch's News Corp. — have now been arrested in connection with the celebrity phone-hacking scandal, Bloomberg reports.
CNN host Piers Morgan is a former editor of The Mirror, and of the News of the World, the Murdoch paper that was shuttered when the scandal first broke. To be clear, Morgan has not been accused of any wrongdoing. But Bloomberg says "a former Daily Mirror reporter later testified … that hacking took place on a daily basis among the newspaper's show-business reporters."
How, exactly, Morgan got one of his most famous voicemail-related scoops remains shrouded in mystery. When asked under oath at the British parliament's inquiry as to how he listened to a voicemail of Paul McCartney pleading with his former wife Heather Mills, he declined to answer, saying only: "I'm not going to start any trail that leads to the identification of a source."
By the way, people who know what's coming are taking advantage of our healthy & delicious storable food!