Matt Ryan
Infowars
April 7, 2011
A 7.4 magnitude earthquake has just struck off the east coast of Honshu, Japan, 118km (78 miles) north of Fukushima, 40km offshore. The quake was reportedly strong enough to shake buildings in Tokyo. The Japan meteorological agency issued a tsunami warning for a wave of up to one meter.
The tsunami would impact a region previously devastated by last month's 9.0 magnitude earthquake which has left a nuclear power plant in an unstable state, suffering meltdown, explosions, and leaking harmful radiation in to the ocean.
Recent troubles with the power plant include a hydrogen buildup that experts believe may result in another explosion if left untreated.
The Pacific Tsunami Warning Center said based on all available data, "a destructive Pacific-wide tsunami is not expected and there is not a tsunami threat to Hawaii."
More information will be posted as the situation unfolds.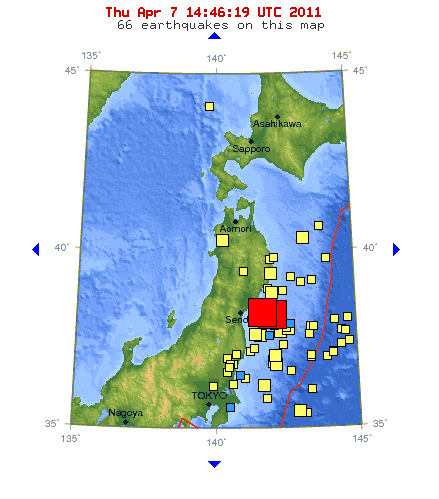 The Emergency Election Sale is now live! Get 30% to 60% off our most popular products today!