Emily Anne Epstein
Observer.com
December 10, 2012
Pamela Geller is at it again.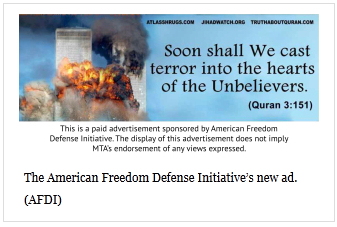 Screen capture taken from Observer.com
The outspoken blogger and Executive Director of the American Freedom Defense Initiative has just purchased a slew of advertising space in several subway stations and on numerous Metro-North platforms in order to display her newest anti-Islam message.
Her latest ads, shared exclusively with The Observer, will feature a panorama of the sky the moment the World Trade Center burst into flames in 2001, accompanied by a quote from the Quran that reads "Soon shall We cast terror into the hearts of the Unbelievers."
Ms. Geller's various websites, AtlasShrugs.com, JihadWatch.org and TruthAboutQuran.com are listed on the top—making no details of the design particularly shocking (for her).