The Department of Homeland Security is providing tips on how to survive an active shooter crisis. One crucial item you will need: scissors (if you said "firearm," you are a right-wing racist and domestic terrorist).
In an instructional short film titled "Options for Consideration Active Shooter Training Video," various methods are prescribed for decreasing a prospective mass murderer's body count, should one find themselves in the extremely unlikely scenario of an active shooter situation.
The training video starts by listing some of the recent mass murders and an assassination attempt, noting, "In most cases there is no pattern or method to their selection of victims. Active shooter situations are unpredictable and evolve quickly."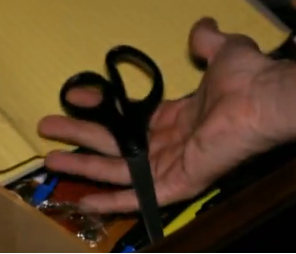 According to the video, your options during this type of crisis are to either: a) run out of the building, b) find cover from gunfire, c) try to conceal yourself from view (and hope the gunman doesn't find you), or d) "if you're caught out in the open and cannot conceal yourself or take cover," the instructional recommends considering overpowering the shooter "with whatever means are available," as a hand in the video reaches into a drawer for a pair of scissors.
To be clear, the active shooter described is probably not looking to make snowflake cut-outs for a third grade art project, and, to the best of our knowledge, isn't looking to engage you in a literal game of rock, paper, scissors. No, this is supposedly a real-life scenario where you are taking your life in your own hands, and yet the best method of defending yourself isn't even mentioned: guns.
The video does offer some bang-up tips, but most are so commonsensical anyone with an IQ over 80 would likely not benefit from them.
In another example of just how out-of-touch with reality the DHS really is, last July they, along with the city of Houston, released a video in which shooters were to be dealt with by means of an improvised weapon, notably a fire extinguisher.
In a video titled, "Run, Hide, Fight," the same active shooter scenario is described this time specifically taking place in an office building.
In similar fashion to the latest video, the "Run, Hide, Fight" instructional recommends running and hiding as the first options to be considered, and as a last resort, one should grab a fire extinguisher, or other "improvised weapon."
As Kurt Nimmo correctly stated, "If potential victims, however, were armed and trained in the proper use of firearms, ineffectual 'improvised weapons' would not be necessary."
On Thursday's edition of the Alex Jones Show, Infowars writer and editor Paul Watson pointed out the irony in the DHS' recommendation of scissors and other makeshift weapons for public defense, while the agency itself is busy acquiring some 7,000 assault rifles for "personal defense."
The Obama administration's insane push to curtail gun rights in the aftermath of the Sandy Hook school shooting relies on propaganda videos like these to convince the public that there are alternative methods to defend one's self besides firearms, but as the old adage goes, "You don't bring scissors (or a fire extinguisher) to a gun fight."