Press TV
August 14, 2013

Afghan National Security Forces have killed sixteen Taliban militants in separate cleanup operations across the country over the past 24 hours.
"Afghan National Security Forces (ANSF) conducted a series of cleanup operations with the support of the army, intelligence service and coalition forces in Balkh, Ghazni, Kandahar and Kunduz provinces, killing 14 Taliban militants and wounding three others. Two more armed men were also arrested over the past 24 hours," the Afghan Interior Ministry said in a statement on Tuesday.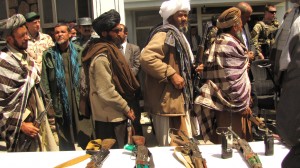 The statement, however, did not mention whether there were any casualties on the side of Afghan forces.
It added that Afghan policemen seized large amounts of munitions and defused several roadside bombs planted by the militants.
Moreover, Afghan police forces shot dead two Taliban militants and injured two others during a heavy exchange of fire in the Ghormach district of the northern province of Faryab late on Monday.
The United States and its allies invaded Afghanistan in 2001 as part of Washington's so-called war on terror. The offensive removed the Taliban from power, but the country is still gripped by insecurity.
Advertisement
The ARK All In One Seed Kit contains 70 varieties & 50,000 seeds of fruits, vegetables, medicinal & culinary herbs.
In late April, the Taliban announced the start of their annual "offensive" against US-led and Afghan forces, vowing a new wave of attacks across Afghanistan.
The militant group said it would use "every possible tactic" to inflict casualties on Afghan and US-led forces. They specifically mentioned insider attacks, and bomb attacks.
The announcement prompted the Afghan authorities to beef up security in major cities across the country, including the capital, Kabul.