Infowars.com
March 26, 2013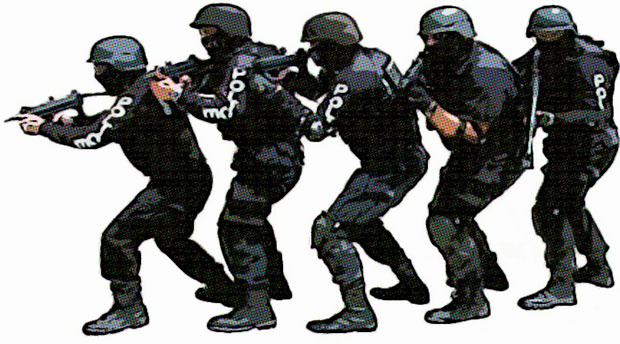 Police in Albany, New York, conducted a SWAT drill without informing residents last week. Live tear gas and fake ammo was used in the raid on an abandoned apartment building. People were locked down in their apartments and threatened with arrest during the "hostage training scenario," the Times Union reported on Tuesday.
One resident told the newspaper police threatened to arrest him for trespassing as he tried to get to his own home.
Military and police around the country are now conducting urban combat drills and other paramilitary exercises without informing the public. Police and military officials often apologize in response to public outrage but continue to conduct the "scenarios" without informing the public.
Residents in Albany heard gunfire, flash grenades and breaking glass. They had no idea it was a training exercise, the Times Union reports. "It looked like a small military operation complete with fatigues and full gear," a resident told the newspaper. "Children should not be exposed to that, not on television, not on radio and definitely not in real life."
"Children shouldn't have to walk through simulated war zones," said another resident. "We need to be valued as a people that have a right to live without fear."
Police admit it was "insensitive" to conduct the drill near occupied apartments. They said there was a breakdown in communication and that's why residents were not informed.
Some residents are so upset by the unannounced drill, they plan a protest in Albany on Friday.
Recent police and military drills
In January, the military staged a mock attack in downtown Miami. During the exercise, attack helicopters fired blank rounds on civilian traffic, troops erected road blockades, and combat soldiers stormed mass transit platforms.
Also in January, the military conducted an exercise in coordination with the cops in Galveston, Texas. "The purpose of the realistic urban training is to give our Special Operators an opportunity to hone their skills in a controlled, but unfamiliar, realistic urban environment that cannot be replicated with the bare-boned facades found on military installation ranges," Sgt. 1st Class Michael Noggle, an Army spokesman based at Fort Bragg, North Carolina, told the Houston Chronicle.
"KTRK-TV in Houston reported that the U.S. Army along with other agencies took over the Carnegie Vanguard High School in Houston on Monday. Alarmed residents called police and complained about gunshots and helicopters," we reported on January 29.
Unannounced police and military drills are occurring with increasing frequency. Although we are told the exercises are designed to train cops and soldiers for the inevitability of a terrorist attack or violence by "Tea Party insurrectionists," this is little more than a flimsy cover.
The real purpose is to get the American people accustomed to police in combat gear and soldiers on the streets.
By the way, people who know what's coming are taking advantage of our healthy & delicious storable food!