Megan Twohey
Yahoo News
September 10, 2013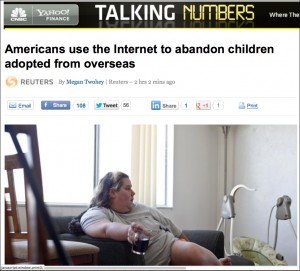 KIEL, Wisconsin – Todd and Melissa Puchalla struggled for more than two years to raise Quita, the troubled teenager they'd adopted from Liberia. When they decided to give her up, they found new parents to take her in less than two days – by posting an ad on the Internet.
Nicole and Calvin Eason, an Illinois couple in their 30s, saw the ad and a picture of the smiling 16-year-old. They were eager to take Quita, even though the ad warned that she had been diagnosed with severe health and behavioral problems. In emails, Nicole Eason assured Melissa Puchalla that she could handle the girl.
"People that are around me think I am awesome with kids," Eason wrote.

Read More
Experience the massive benefits of our Ultimate Krill Oil now at 60% off!