Newest law enforcement tool incarcerates more people faster
Julie Wilson
Infowars.com
July 23, 2013


A new Arkansas state law sponsored by Sen. Jake Files, passed in March but went into effect July 17, allows law enforcement to test an individual's saliva for drugs and alcohol.
The test that originated in Sebastian County is popular in Europe and is slowly gaining acceptance in the U.S.
Channel 5 news reports that Lieutenant Allan Marx with the Sebastian County Sheriff's Department was the "driving force" behind the new legislation.
Not only is Marx behind the new law, but he is a distributor for the product. Marx is selling the test called OralTox, created by Premier Biotech at http://www.gotchadwi.com/ for 25 per case at $298.75.
The Lt. recommends the test for employers, schools, coaches, police departments, parole, probation and drug courts.
Arkansas News reports, "(An officer) puts the saliva test kit in (the suspect's) mouth for approximately four minutes or until the saturation indicator strip changes colors," Marx said. "Negative results can be read at two minutes and positive results can be read at 10 minutes. It's a lot like a pregnancy test is the way Senator Files explained it."
The tests can detect a variety of substances including but not limited to alcohol, marijuana, amphetamine, cocaine, oxycodone, methadone, benzodiazepines, opiates and many others.
According to Marx, "If there's ever a new way, a new tool that we can use to help not only law enforcement but help the public and the safety of the people out there, it needs to be used."
"I believe this product is going to save lives."
The manufacturer alleges the tests to be 94-99% accurate, but since the technology is so new, it has yet to be used in court. However, some law enforcement agencies have been using the tool in the hiring process for years.
Marx says the tests produce results within ten minutes and help officers determine whether an arrest should be made. The positive test is considered probable cause for arrest, and if needed, blood and urine can be collected at the jail.
The law, which easily passed through both the state House and Senate, was supported by the Arkansas Prosecuting Attorneys Association, Sheriff's Association and the Association of Chiefs of Police.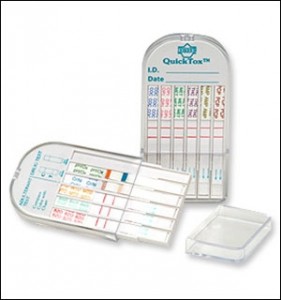 President of the Association of Chiefs of Police, Percy Wilburn says, "We feel like it will help reduce the amount of drivers that are on the highway that are under the influence of alcohol and other controlled substances."
Lt. Marx who is also acting as the distributor, says the tests are funded by the Drug Task Force and also taxpayer money. With the saliva test being more cost effective than blood tests, he insists the new tests will actually save thousands of dollars on police training and over time costs.
So far, eight states and one unincorporated US territory include saliva testing in their DWI laws including: Oklahoma, North Dakota, New York, Missouri, Michigan, Utah, Colorado, California and Puerto Rico.
The following states can test any bodily fluid: Georgia, Indiana, Kansas, Louisiana, Massachusetts, North Carolina and South Dakota.
Unfortunately, testing bodily fluids for drugs and alcohol is not that uncommon. As we recently reported, Oregon bicyclist Jason Barnes was arrested for riding his bicycle standing up. While in custody, police obtained a warrant and forcibly catheterized the young man in order to obtain a urine specimen.
The Sebastian and Scott county sheriff's departments plan to install the saliva test kits soon, and expect other agencies to follow suit. An officer is permitted to utilize the new tests once they complete an online training course.
This new advancement in technology allows law enforcement to arrest more citizens more quickly, which in turn increases city and state revenue.
Notably, it's safe to presume that citizens will soon be acclimated to the use of these devices in unconstitutional DUI checkpoints across the nation.
The saliva test is the latest addition to the tactical equipment available to law enforcement including blood draws, license plate readers, K-9 drug dogs, Tasers, breathalyzers and police cams.
However, don't forget, these tools are necessary for your protection.