UPI.com
February 21, 2013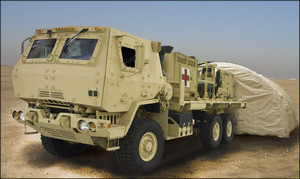 The first of more than 100 chemical biological protective shelters have been delivered to the U.S. Army by Smiths Detection under a $40 million contract.
The self-contained, mobile shelters provide 400 square feet of protective, sterile work space for medical personnel to perform preventative and emergency care in the field. The shelters can also be used in homeland security operations following natural disasters.
"These CBPS units offer the U.S. Army a critical dual-use capability — a highly mobile, protected environment for soldiers operating under threat of chemical and biological agents or the harsh conditions of a natural disaster response," said Bob Bohn, Smith Detection's vice president of sales.
Our 4th of July Super Sale has been extended! Get double Patriot Points and free shipping on the hottest items!