Todd Starnes
Fox News
April 6, 2013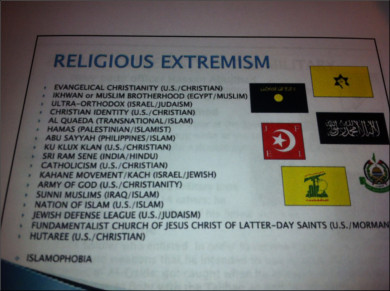 A U.S. Army training instructor listed Evangelical Christianity and Catholicism as examples of religious extremism along with Al Qaeda and Hamas during a briefing with an Army Reserve unit based in Pennsylvania, Fox News has learned.
"We find this offensive to have Evangelical Christians and the Catholic Church to be listed among known terrorist groups," said Ron Crews, executive director of the Chaplain Alliance for Religious Liberty. "It is dishonorable for any U.S. military entity to allow this type of wrongheaded characterization."
The incident occurred during an Army Reserve Equal Opportunity training brief on extremism. Topping the list is Evangelical Christianity. Other organizations listed included Catholicism, Al Qaeda, Hamas, the Ku Klux Klan, Sunni Muslims, and Nation of Islam.
The military also listed "Islamophobia" as a form of religious extremism.
The Reopen America Back to School Special is now live! Earn double Patriot Points on our hottest items!