VOA News
June 21, 2012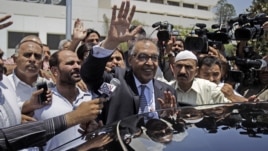 VOA News: Makhdoom Shahabuddin, nominated prime minister by the ruling Pakistan People's party, waves after filing his papers in Islamabad, Pakistan, June 21, 2012.
One of the people poised to become Pakistan's next prime minister now faces arrest in connection to a scandal dating from his time as the country's health minister.
Shortly after Makhdoom Shahabuddin filed his nomination papers Thursday to replace ousted Prime Minister Yousuf Raza Gilani, an anti-narcotics judge ordered his arrest in connection with a scandal involving illegal imports of the drug ephedrine.
Asked about the arrest warrant, Shahabuddin quoted a line from a poem about not being afraid of "hostile winds."
It is unclear how the new developments will affect Shahabuddin's political future; he is currently Pakistan's textile minister. Lawmakers are due to meet Friday to discuss the election of a new prime minister.
Shahabuddin is the nominee of the ruling Pakistan People's Party, which holds a majority in parliament together with its coalition partners. Lawmakers also will likely consider at least four other nominees, including two from the opposition.
Elections are scheduled for early 2013, but some analysts now believe the vote could take place before the end of the year.
Pakistan's new prime minister stands to inherit a tenuous position between President Asif Ali Zardari and the country's Supreme Court.
On Tuesday, the court removed Gilani, declaring him ineligible for office after finding him guilty of contempt on April 26. The leader had refused the court's order to ask Swiss authorities to investigate claims of corruption against President Zardari. The new prime minister will likely face the same pressure to investigate the president.
The Supreme Court's decision is the first time it has forced the removal of a standing prime minister. The move was a blow to Zardari's government, already struggling with rolling blackouts, high unemployment, militant attacks and a tense relationship with the United States.
This article first appeared on VOA News.
Our powerful B vitamin formula, Ultra 12, is now back in stock at 50% off with double Patriot Points and free shipping!