CBC News
October 28, 2012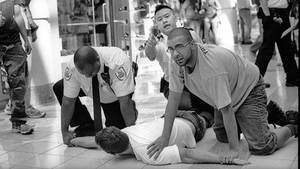 Security guards pin a man at Metrotown mall in an incident that led to a confrontation with the photographer. (Jakub Markiewicz)
A B.C. teen who aspires to be a journalist says his rights were violated when he was set upon by security guards and then arrested by police after photographing an incident at Metrotown shopping mall in Burnaby, B.C.
Jakub Markiewicz, 16, said he was in the mall in September and took a picture of what he thought was a newsworthy event — a man being arrested by security guards.
But Markiewicz said the guards quickly turned on him, demanding he delete the photo, which he couldn't do because he was shooting on a film camera.