Leftist media was caught pushing fake news based on an unconfirmed report that the GOP celebrated its Obamacare overhaul with a "massive keg party."
The claim originated from a tweet by Vice News's Alexandra Jaffe, who reported "cases upon cases of beer just rolled into the Capitol on a cart covered in a sheet."
She later clarified that she had no idea where the beer was going or if it was even for a GOP event.
Politico's Josh Dawsey also tweeted about the beer, but performed no basic journalism, except for retweeting Jaffe when she admitted she had no clue why the beer was there.
That didn't stop leftist media, including Salon, Raw Story and Mic, from "reporting" on a massive GOP "beer party" in celebration of the House vote to repeal major parts of Obamacare.
"Nothing to celebrate a job well done like cracking open a cold one — even when that job is taking away the health insurance of millions of Americans," wrote Mic's Mathew Rodriguez. "…Several reporters on the scene tweeted about the beer, as well."
"One claimed she saw that Bud Light was the brand being wheeled into the Capitol by the covered cartful."
Okay, so there's a cart of beer at the Capitol. That's pretty much all that was originally reported on.
Anything else is just an assumption presented as "news," like Raw Story's claim there was a "massive keg party." But don't you need a keg – not just cases of beer – for a keg party?
"Republicans on Thursday passed legislation that would rip away health care from an estimated 24 million Americans — and they plan to celebrate it with a massive keg party," wrote Raw Story's Brad Reed. "Vice News' Alexandra Jaffe reports that large quantities of beer are being wheeled into the Capitol building in anticipation of the House of Representatives passing the American Health Care Act on Thursday afternoon."
Even more hilarious, however, was Vice News reporting on their own reporter's "scoop" while ignoring the fact it was never confirmed.
"According to accounts from reporters in D.C., it seems that Republicans will celebrate the passage of the bill by drinking cartloads of beer," wrote Vice's Callie Beusman, who linked to Jaffe's original tweet.
Didn't she see the tweet from her co-worker admitting she had no idea where the beer was going? That tweet came hours BEFORE the article (Tweet: 11:14am, article: 8:10PM assuming same timezone).
That tweet was never mentioned, and Beusman's article wasn't updated or corrected at the time of this writing.
Here's the top of the article: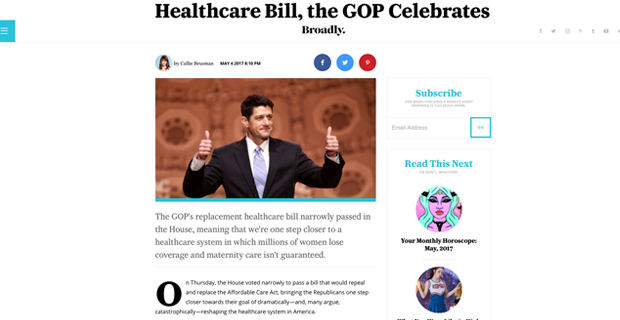 And here's the bottom of the article. No mention of her co-worker Jaffe admitting the "beer party" was unconfirmed:
Even IF the beer DID go to a GOP party in celebration of the Obamacare repeal, we have no way of knowing that based on the lack of journalism shown by these Twitter reporters who omit facts if they don't fit within 140 characters.
Maybe they were just trying to prove a point about the "dangerous influence" of "fake news."
After reading reports about the non-existent beer party, Rep. Rosa De Lauro (D-Conn.) tweeted "millions of Americans are about to lose health care coverage and the Republicans are drinking beer."
The Reopen America Back to School Special is now live! Earn double Patriot Points on our hottest items!