Election Day is here, the Red Wave is coming in hot — and so are the memes!
Check out and share some of the best Red Wave memes predicting a Republican victory, as collected from around the internet:
---
---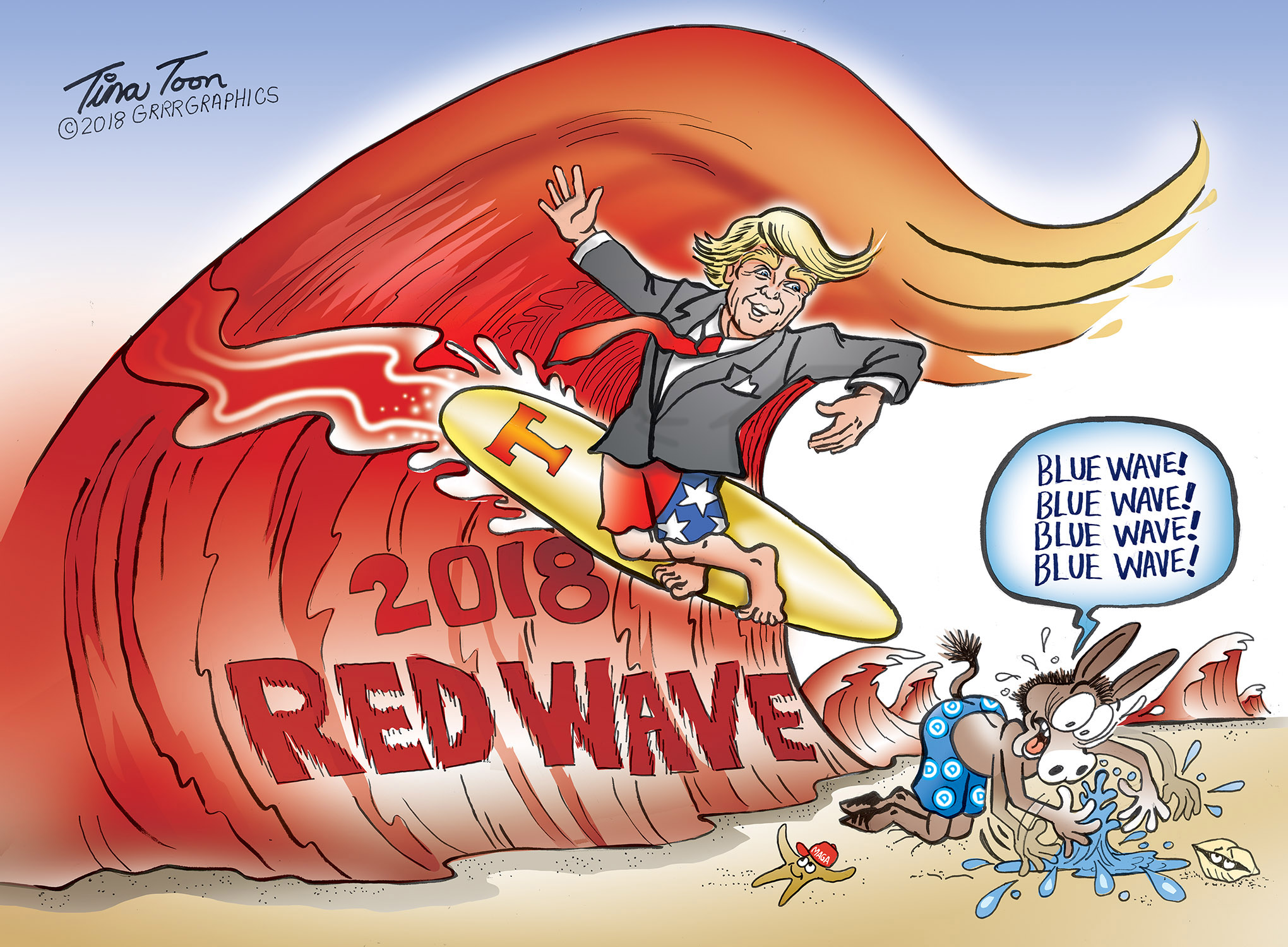 The Tina Toon cartoon animated:
Vote ! pic.twitter.com/1aV58NzYdd

— Ben Garrison Animated Cartoons (@GarrisonToons) November 6, 2018
---
---
---
---
---
Brace yourself for a crazy big red wave. #QAnon #VoteRepublican #RedCalifornia pic.twitter.com/pS8vWXObfX

— Tip Top Anon (@Anon96104509) November 6, 2018
---
---
A red wave coming in 6 days!! #RedWaveComing pic.twitter.com/mrWUsPPgx7

— Trey Brooks (@tbrooks2016) October 31, 2018
---
---
COME ON #USA Lets keep this #RedWave going all the way to #November6th #VoteRed #MAGA #WalkAway #WalkAwayFromDemocrats#VoteRedToSaveAmerica#WalkAwayFromDemocrats2018#MondayMotivaton #RedTsunami2018 #2A #2ADefenders #DrainTheSwamp #DrainTheDeepState #TrumpTrain #BuildTheWall pic.twitter.com/hlNSvzopNx

— Jennifa (@_Jennifa) October 29, 2018
---
Get to the polls!#WWG1WGA #Redwave#RestoretheRepublic#QAnon pic.twitter.com/egECjqODwb

— Skullmonkie (@CordellMc) November 6, 2018
---
---
What tomorrow is looking like to me. #redwave pic.twitter.com/8syfyuVpTQ

— Truth Teller (@TruthTe73883250) November 5, 2018
---
Here's a Red Wave political cartoon from renowned artist Ben Garrison:
#VoteRedToSaveAmerica #CartoonCountdown 5 days to #Midterms2018 #RedWaveRising #DemocratsAreDangerous #OpenBorders put American citizens LAST and in DANGER #VoteREDWave #ElectionDay2018 https://t.co/T6WTPxeNEN

— GrrrGraphics Cartoons (@GrrrGraphics) November 1, 2018
With a minor Pepe adjustment:

Compared to the fabled Democrat Blue Wave:
#VoteTuesday #VoteRedToSaveAmerica #DemocratsAreDangerous #DemocratTsunami Of #Hate, #Censorship, #FakeNews, Higher Taxes, #OpenBorders , Endless #Caravans #SorosFunded Chaos! Your #MondayMotivation to Make History again! https://t.co/6VLaHsfstt pic.twitter.com/YQAspVIJwk

— GrrrGraphics Cartoons (@GrrrGraphics) November 5, 2018
---
Watch: Red Wave vs Blue Puddle Of Protesters At Trump Rally

Watch live, extended coverage of the midterm elections:

Our powerful DNA Force Plus is now back in stock at 50% off with double Patriot Points and free shipping!