Just before lunch on Friday, two cars left the Marriott hotel in Copenhagen in quick succession. First to leave was laden down with US military brass. It carried the supreme allied commander in Europe, General Philip Breedlove, and his aides.
Four stars on his hat and a grim look on his face. Clearly he's annoyed to be missing the buffet. He can still smell those Danish meatballs. It's killing him.
The general hadn't travelled to Bilderberg alone. Discussing the situation in Ukraine with this many senior government ministers makes it official military business. He was well accompanied.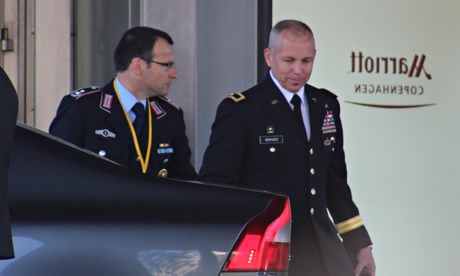 A few minutes after the hungry general had been swooshed off, out popped the secretary general of Nato, Anders Fogh Rasmussen, aka "the Fogh of War".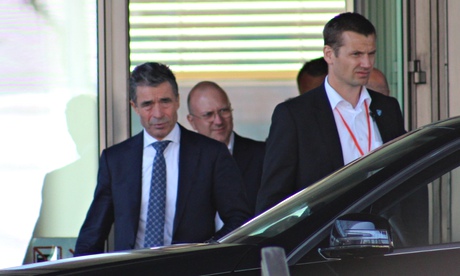 Rasmussen always makes me chuckle, because in every photo we've got of him he looks so incredibly vain. Like a miniature Fonz. Rasmussen was travelling with quite an entourage, one of whose jackets flapped open to reveal his firearm.
Rasmussen's bodyguards were there, of course, to try and keep the heads of Airbus and Saab from throwing themselves at him, begging for a nice big war.
I hope they managed to protect him. He's only little, and the CEO of Airbus, Thomas Enders, is tall with a kind of lanky strength. The head of Saab, Håkan Buskhe, has a low centre of gravity. Together they'd be unstoppable, especially with Kissinger behind them, pushing.
Here's Buskhe of Saab, ordering his factories to step up the work rate. The way things are heading they'll soon have some extra fighter jets to deliver.
See Infowars' Bilderberg 2014 coverage at http://infowars.com/b/