The Nashville chapter of Black Lives Matter accused a public library of "white supremacy" after librarians refused to host a meeting which banned whites from attending.
BLM Nashville attempted to set up a meeting at the North Branch Library in North Nashville, but after group organizer Joshua Crutchfield said "only black people as well as non-black people of color are allowed to attend," the library told BLM to find a new location.
"All meetings at our facilities must be open to the general public and news media," library spokesperson Emily Waltenbaugh said. "We're a library. We're taxpayer funded."
"We have to be open to anyone anytime."
In response, BLM Nashville announced the change of venue with the following sign stating "due to white supremacy in our local government, this week's BLM General Body Meeting location has changed."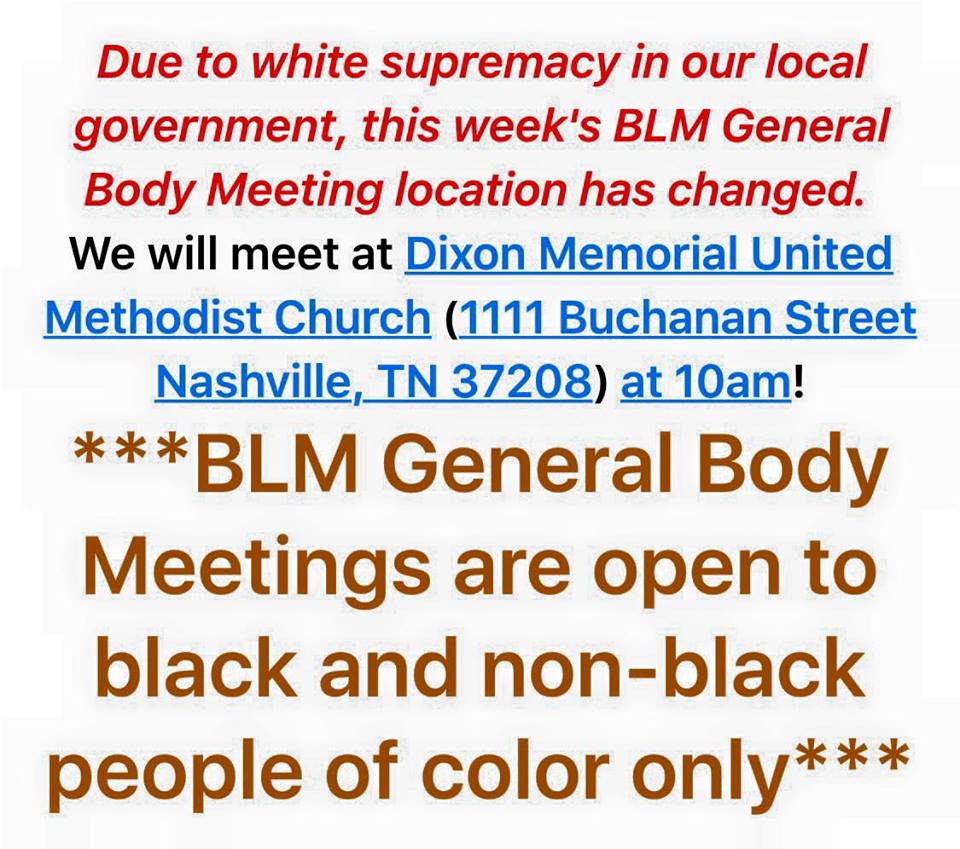 Dixon Memorial Methodist Church couldn't be reached for comment on why the church would host a meeting that excludes people by race because the Bible makes numerous statements promoting equality, including Galatians 3:28:
There is no longer Jew or Greek, there is no longer slave or free, there is no longer male and female; for all of you are one in Christ Jesus. (NRSV)
And Acts 10:34:
Then Peter began to speak to them: "I truly understand that God shows no partiality…" (NRSV)
As well as Mark 12:31:
The second is this, 'You shall love your neighbor as yourself.' There is no other commandment greater than these." (NRSV)
On its Facebook page, BLM Nashville suffered severe backlash over the church meeting.
"Am I the only black person here that finds this appalling?" Eugene J. asked. "Not all whites are your enemies, and not all blacks are your friends."
Another gentleman, Greg Z., pointed out the irony of BLM Nashville.
"BLM Nashville, you are the only ones fueling the flames of hate; everyone is just simply pointing out that you cannot just make up your own rules," he wrote. "Especially with public places that the Civil Rights Act of 1964 covers… it still comes down that in a taxpayer-owned building."
"You cannot discriminate who can and cannot attend a discussion."