Aaron Dykes
Infowars.com
February 15, 2013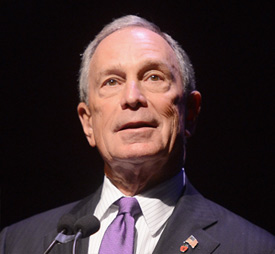 New York's authoritarian mayor — who is anti-gun, anti-soda, anti-trans-fats, anti-salt and who has empowered a heavy-handed police state — has now finalized plans to ban Styrofoam (polystyrene) as he continues to pursue a British-style nanny state attempt to socially engineer the population and police so-called anti-social (or unhealthy) behaviors.
Of course, Mayor Bloomberg has also weighed in on population control as well, meeting in secret with fellow billionaire eugenicists like David Rockefeller, Bill Gates, Ted Turner and George Soros to discuss how to accelerate declines in fertility.
The Daily Mail reported on the new Styrofoam controls:
NY Mayor Bloomberg will BAN Styrofoam containers because it's almost impossible to recycle

First he went after cigarettes and trans-fats, then he cracked down on extra-large soda cups, and now New York City Mayor Michael Bloomberg wants to ban Styrofoam take-out containers.

The three-term mayor is expected to outline his plan in his State of the City address Thursday. Excerpts from the speech were made available to reporters in advance.

'One product that is virtually impossible to recycle and never bio-degrades is Styrofoam,' Bloomberg said.
Meanwhile, Michael Bloomberg defended against criticism that he was out to ban anything and everything just to control the lives of New Yorkers:
Mayor Bloomberg: 'We're Not Banning Everything!'

[…] Not everyone was thrilled with this new ban, however, including a Staten Island man who called into Mr. Bloomberg's weekly radio show this morning declaring, "I'm very upset with you, you're on a track to ban everything."

"Come on," Mr. Bloomberg shot back. "We're not banning everything!"

"You can still buy cigarettes, we haven't banned that!" Mr. Bloomberg exclaimed. "You can still buy 32 or 64 ounces of full-sugared beverage, you just have to take … 16-ounce cups if it's in a restaurant or a theater. In smoking, you can't smoke where other people have to breathe the smoke, but you can still do that. In the case of Styrofoam, … Styrofoam is a brand name, it's really polystyrene that you're banning. An awful lot of places on the West Coast have already banned it. Here in New York City, it costs us an extra 20 bucks a ton to take it out of these recycling things." >>>READ FULL ARTICLE