Matt Ryan
Infowars.ccom
August 19, 2010
With what Google Trends describes as "volcanic" level hotness, "Bombshell Barack" reached second place on Google's hot trends list for August 19, 2010. Shortly after this, "kill web" skyrocketed to the number one position. This marks the eleventh time we have had a significant impact on the closely-monitored list which is regarded as a benchmark for what topics are currently receiving the most attention by web users.
The term "kill web" is the number one search term, but Google delisted our PrisonPlanet.com article written to warn people about the end of internet neutrality and beginning of internet dark age.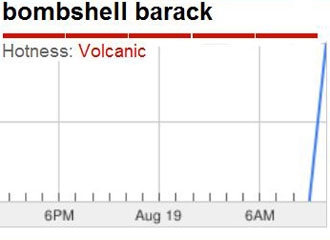 Fresh food that lasts from eFoods Direct (Ad)
During the show Thursday, Alex Jones asked listeners to search the terms "bombshell Barack" and "kill web" relating to two featured articles here concerning explosive stories relating to President Barack Obama's ties to the CIA and Google's intent to destroy the Internet as we know it.
Alex Jones would like to again thank everyone for their continued support in spreading the message of truth. Your action and dedication is essential to exposing the lies and disinformation.
{openx:49}