Jacob Tierney
Watertown Daily Times
January 7, 2013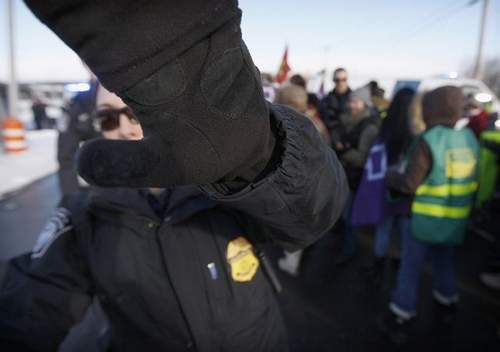 Photo by Jason Hunter for Watertown Daily Times – A U.S. Border Patrol Agent blocks a camera
Saturday at the start of a protest march across the Massena-Cornwall International Bridge in Massena.
In a tense moment during an otherwise peaceful protest Saturday, Border Patrol officers tried to block two photographers, including a Times photojournalist, from covering the Mohawk march across the Massena-Cornwall International Bridge.
Jason Hunter, the Times staff member, was approaching the bridge alongside the marchers and ignored a demand from a Border Patrol agent to stop. He then was grabbed by a male officer who tried to separate him from the marchers.
A female officer also tried to prevent him from getting near the protest. Defying her, Mr. Hunter lifted his camera and she became incensed, calling out to other officers that her photo was being taken.
The Emergency Election Sale is now live! Get 30% to 60% off our most popular products today!