CBS
January 27, 2014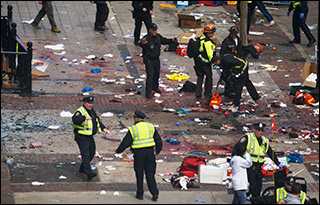 As is tradition for State of the Union addresses over the past three decades, the White House is again inviting guests to sit with first lady Michelle Obama, and this year's guest list includes two survivors of last April's Boston Marathon bombing as well as NBA player Jason Collins, the first player from one of the major professional U.S. sports to come out as gay.
It's standard practice for presidents to invite guests to sit with the first lady in the gallery "who represent something that [the president is] trying to promote, some issue that connects to their speech, somebody who has accomplished something, someone noteworthy," Senate historian Don Ritchie told CBS News before last year's State of the Union.
Below is the White House's announcement of the initial invitees; more will be announced before his Tuesday night speech.
Carlos Arredondo and Jeff Bauman (Boston): Survivors of the Boston Marathon Bombing Carlos Arredondo and Jeff Bauman are forever linked due to the attacks on the 117th Boston Marathon. In what has become an iconic image from the day in April of 2013, Carlos – wearing his white Cowboy hat – was captured rushing a badly injured Jeff away from the bombing to safety, thereby becoming two of the faces of 'Boston Strong.' From his intensive care hospital bed, Jeff played a vital role in identifying the bombers. After losing both legs in the attack, he is battling back, describing himself as a quick healer and stronger now than he was before the attack. Jeff, 27, and Carlos, 53 and a Gold Star Father, have become close friends.