Michael Muskal
LA Times
November 15, 2012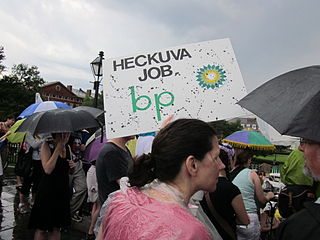 Photo by Infrogmation, via Wikimedia Commons
Oil company BP has agreed to plead guilty to misconduct and negligence charges and pay a record $4.5-billion fine in connection with the massive Gulf of Mexico oil spill, one of the nation's worst environmental disasters.
In an announcement Thursday morning from its London headquarters, BP confirmed that it had reached an agreement with the U.S. Justice Department to resolve all federal criminal charges and all claims by the Securities and Exchange Commission against the company stemming from the 2010 Deepwater Horizon rig explosion, the subsequent oil spill and the response.
As part of the agreement, BP said it has agreed to plead guilty to 11 felony counts of misconduct or neglect in connection with the 11 people who died in the explosion. In all, the company agreed to plead guilty to 14 criminal charges including one count of obstruction of Congress.
The Emergency Election Sale is now live! Get 30% to 60% off our most popular products today!