Infowars.com
May 8, 2012

It looks like the British Army is expecting al-Qaeda's air force to attack during the upcoming Olympics.
They have placed military hardware – including a battery of Rapier surface-to-air missiles – in picturesque Oxleas Meadows located in the Royal Borough of Greenwich in southeast London.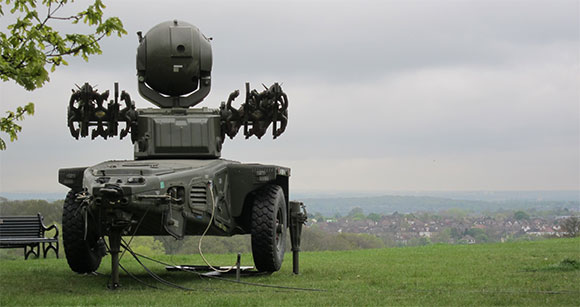 A Rapier missile launcher — minus missiles — positioned at Oxleas Meadows.
Infowars.com learned about the placement after a reader sent a letter he received in late April from the leader of the Borough of Greenwich (included at the bottom of this post).
A web search produced a page with a photograph of a Rapier Missile Battery located on Oxleas Meadows (above).
"A battery of Rapier surface-to-air missiles together with other components of a Ground Based Air Defence (GBAD) System was set up on Oxleas Meadows, just below the Oxlea Wood  Cafe this morning as part of the MoD's exercise Olympic Guardian," a post dated May 4, 2012, states. "The exercise to test security preparations for the Olympic and Paralympic Games also includes deployment of a similar GBAD System on Blackheath, the berthing of the Royal Navy's largest ship, HMS Ocean, at Greenwich and activity by helicopters, jets and other military hardware in and over the royal borough."
"The ground-based air defence system consists of a radar, sighting unit and missile rail, and is intended to enhance Armed Forces security that is already in place," explains a Royal Greenwich government web page.
It is difficult to phantom the sort of threat facing the country during the Olympics that would require the placement of such military hardware. Only nation-states possess the sort of aircraft that would require the use of anti-aircraft missiles. Is the British government expecting Iran or North Korea to attack?
On May 3, The Telegraph quoted Michael Clarke, director of the Royal United Services Institute, as saying the security measures being implemented for London 2012 "are intended to reassure the public and send a message to any one who wants to 'have a go' during the Olympics."
Or maybe acclimate the British public to military in their midst?