Kate Holton and Michael Holden
Reuters
February 14, 2014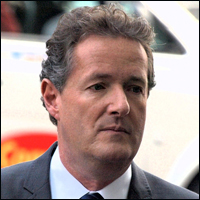 Piers Morgan, one of the biggest names in British media and a CNN television host, has been questioned by London police in connection with allegations of phone-hacking at the Daily Mirror tabloid he used to edit.
Morgan, a former judge on "America's Got Talent" show who replaced Larry King on CNN in 2011, said in a statement on Thursday he had been interviewed by officers after voluntarily attending a police station in December.
The 48-year-old, who has always denied any involvement in phone hacking, was quizzed as part of wider investigations into illegal practices by journalists at Rupert Murdoch's now-defunct News of the World newspaper.
The Reopen America Back to School Special is now live! Save up to 60% on our most popular items!