Media fails to convince Bunkerville residents Bundy is a criminal
Adan Salazar
Infowars.com
May 2, 2014
Residents of Bunkerville, Nevada, gathered for a town hall meeting yesterday where many expressed strong support for embattled cattle rancher Cliven Bundy and the militia groups that rallied in his defense.
On Thursday, the Bunkerville community, along with several Bundy supporters from across the country, crammed into the Town Advisory Board Room and proceeded to condemn a host of issues regarding the BLM's standoff, from the media's skewed coverage of the events, to the county's sheriff not acting to protect his citizens, to the strong arm military tactics of the Bureau of Land Management, who three weeks ago nearly engaged in an armed confrontation with supporters.
"Tell the whole truth," one council member said, directing his comments at the mainstream media, adding, "Don't spin things to get your ratings."
"I'm really disappointed in our sheriff for not being out here to protect the citizens who are out here," another council member said concerning Clark County Sheriff Doug Gillespie's monumental inaction.
Far from being troubled by claims that Cliven Bundy is a racist, as skewed in several mainstream articles from comments we revealed to have been taken grossly out of context, attendees were more concerned with the level of force used by the feds to coerce Bundy into paying exorbitant grazing fees.
"The day the militia come is the day I felt safe again in Nevada," another woman stated.
Residents were also upset that their local police department did nothing to protect the community from the BLM's overreach.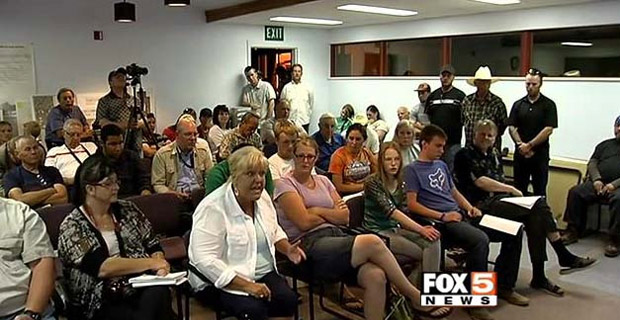 "I called the metro and their exact words to me were: 'It's the BLM and Cliven's problem and I should take it up with one of those two.' That is Bullcrap! Those are my children and this is my community, and if metro does not have the guts to come out and protect us, what are you here for? What are we paying you guys for?" another lady said.
"We the people pay their wages, where the hell were they?" council member Duane Magoon passionately inquired. "That is wrong, that is blatantly wrong!"
.@DLoesch is this what winning looks like? #Bundyranch pic.twitter.com/HX9nsyxtyj

— A Federal Farmer (@AFederalFarmer) April 12, 2014
In the days that followed the historic standoff, where hundreds of citizens faced-off against the feds, it was revealed the BLM killed several of Bundy's cattle and tossed them into mass graves. In the weeks prior, the BLM moved to round up and impound Bundy's cattle, and set up checkpoints and federal snipers to stake out the ranch. A "free speech zone" was also set up, and those who dared step beyond its boundaries were met with brute force.
"I want to tell everyone in the militia, 'thank you,' because not one of our government officials, not one of our sheriffs or a metro would have saved us that day. They didn't save us that day," a resident said.
Judging by Fox News Las Vegas' coverage of the meeting, none of the attendees were supportive of the BLM's efforts. It could also be assumed that most of the town hall participants would disagree with Sen. Harry Reid's description of Bundy supporters as "domestic terrorists."
Bundy is currently in the process of filing criminal complaints against the BLM alleging their men blocked "access to public land," harassed people, impersonated officers and "threatened unarmed civilians."
"We believe that the BLM men who pointed guns at over 1,000 people on April 12th near the I-15 freeway south of Mesquite committed a criminal act and the Clark County sheriff's office should be required to investigate," Bundy's criminal complaint reads, according to the Las Vegas Review Journal.
Bundy is also calling on others to file their own criminal complaints with the Clark County Sheriff's office.
The town's apparent outrage is just one more example of how We the People are getting fed up with out-of-control federal intrusion in our lives, and how the sleeping giant that is the American people is beginning to wake up and realize that it has infinitely more power than the bureaucracies that have imposed themselves upon us.
Grab our latest issue of the Infowars Magazine, detailing the entire Bundy affair, including Sen. Harry Reid's ties to federal land grab efforts.