Carl Herman
Washington's Blog
June 18, 2012
RELATED: Comprehensive Annual Financial Report for the Year Ended June 30, 2011
RELATED: 2011 CalPERS Comprehensive Annual Financial Ended June 30, 2011
RELATED: CA CAFR shows $600 billion tax surplus, 1% demand 'austerity'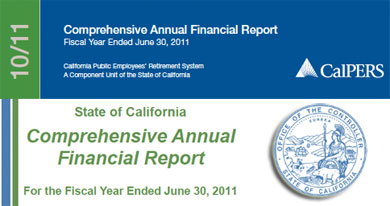 Let's summarize what we've documented so far about the data of California's 2011 Comprehensive Annual Financial Report (CAFR) and what it means for the state's 12 million households:
So the natural question is if the state's withholding of $600 billion in our cash and investments does not fund pensions, address a budget deficit, or prevent devastation to infrastructure, how can we best restructure the purpose and use of OUR MONEY for optimal public benefits?
I asked this of my two state representatives, Senator Carol Liu and Assemblymember Anthony Portantino. Carol and her consultant, Robert Oakes, has not yet answered this question. Anthony responded, but failed to address the question.
I'm also addressing law enforcement whether such non-disclosure of withheld taxpayer cash and assets by public officials is a crime while they tell us the only option is our austerity.
I'll write with updated status of Senator Liu, Assemblymember Portantino, and law enforcement agencies.
Remember, this is a case study where I'm investing my time to explore and document this issue in the public interest. You are welcome to do the same
Alex Jones Report on The CAFR

Our 4th of July Super Sale has been extended! Get double Patriot Points and free shipping on the hottest items!