Awr Hawkins
Breitbart
October 23, 2013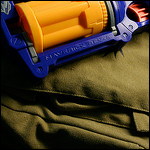 Northern California sheriff's officials and family members say deputies shot and killed a 13-year-old boy who was carrying a replica assault weapon.
Two Sonoma County deputies saw the boy walking with the replica weapon around 3 p.m. Tuesday in Santa Rosa.
Lt. Dennis O'Leary says they repeatedly ordered him to drop what appeared to be a rifle before firing several rounds.