Kurt Nimmo
Infowars.com
August 11, 2011
The British government is frantically throwing out proposals in the wake of three days of rioting in the country following the murder of a man by police.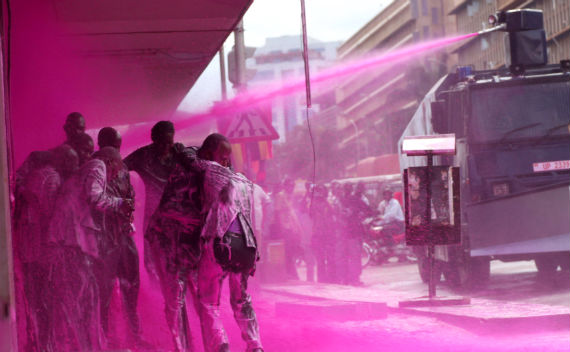 Political demonstrators are sprayed with dye in Uganda.
In addition to shutting down Twitter and BlackBerry messaging during civil disturbances, the government is suggesting rioters be sprayed with dye.
The tactic was used in apartheid South Africa against protesters. In 1989, the government deployed a water cannon to indiscriminately spray dye on anti-apartheid demonstrators who would then be later identified and arrested for the crime of marching on parliament. The incident became known as the "Purple Rain Protest."
Other governments have used brightly colored dye to mark and arrest people. The tactic has been used in the Indian-administered part of Kashmir, Hungary, Bangladesh, Uganda, South Korea and Indonesia.
"The police should look at all available technologies and keep abreast of all potential developments here and in other countries to make sure they arrest as many people as possible," said British PM David Cameron when questioned about the tactic.
The technique is designed to identify large numbers of people attending political rallies, not looters and vandals mixed in larger crowds of bystanders and others not engaged in criminal behavior.
The Emergency Election Sale is now live! Get 30% to 60% off our most popular products today!