Infowars.com
April 22, 2013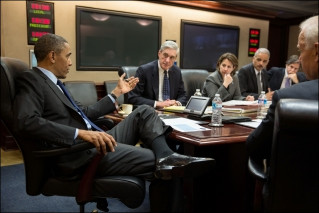 The White House announced Monday it will not be treating suspected Boston Marathon bomber Dhzokar Tsarnaev as an enemy combatant, but instead will proceed to use the criminal justice system to try him in federal court.
White House press secretary Jay Carney, however, didn't abstain from casting guilt, referring to the accused 19-year-old as "this terrorist," even though a trial, photos, videos or any information proving his guilt has yet to surface.
At a press conference Monday, Carney stated:
"He will not be treated as an enemy combatant. We will prosecute this terrorist through our civilian system of justice. Under U.S. law, United States citizens can not be tried in military commissions. And it is important to remember that since 9/11 we have used the federal court system to convict and incarcerate hundreds of terrorists. The effective use of the criminal justice system has resulted in the interrogation, conviction and detention of both U.S. citizens and non-citizens for acts of terrorism committed inside the United States and around the world."
The White House's announcement comes days after Sen. Lindsey Graham and others called for the suspect to be considered an enemy combatant only for "interrogation purposes," which would have waived his legal rights under due process.
Unsurprisingly, Carney did not address confirmed rumors that the suspects were known by the FBI.
Don't forget, boosting your immune system during a crisis is just as important as storable food! Don't wait until it's all gone!