Adan Salazar
Infowars.com
March 13, 2013
The Grace-Gospel Fellowship Church in Bensenville, Illinois held its first "Second Amendment Sunday" this past weekend where children were encouraged to create gun-shaped pastries and "combat" cupcakes, a strategy aimed at countering the wave of anti-gun paranoia sweeping the country.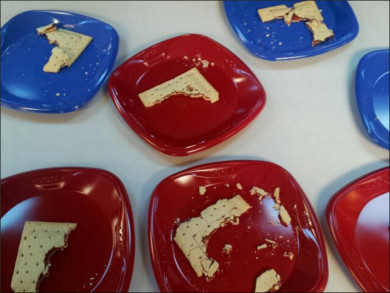 "This past Sunday, a Chicago area church sponsored a Second Amendment Sunday filled with 'assault' pop-tarts, 'combat' cupcakes and a sheet-cake that featured a chocolate semi-automatic Glock handgun with a quote from Jesus that read 'Blessed are the peacemakers,'" reported ClashDaily.com.
The church even held a contest for the best gun-shaped pastries, dubbed the "assault pop-tart challenge," where they awarded gift cards and toy "assault rifles" to the children who created the best-looking gun tarts, "as determined by The Parson."
Pastor John Kirkwood tells Clash Daily one of the toy firearms he handed out as a prize was labeled with the term "high capacity," terminology currently being used to demonize a broad spectrum of firearm magazines: "You know, I stood in the toy aisle for a good half an hour to choose just the right one and it turned out to be the biggest Nerf gun that I could find, and the kicker – the box was marked 'semi-auto' and 'high capacity,' so we named that one 'the Feinstein.'"
A Facebook post by Pastor Kirkwood laid out exactly what the program aimed to accomplish by allowing kids to bring toy guns to church and "fashion their own assault pop-tarts":
2nd Amendment Sunday is here at Grace Gospel Fellowship, Bensenville. Join us as we lay out the Biblical doctrines of self-defense and Liberty. Our Jr. Church will respond to the latest absurdities in the news of "toy gun" buy back programs by eunuch preachers and suspending elementary children for assault fingers, pop-tarts and cupcakes.

Our kids will be allowed to bear their "toy guns" to church and to fashion their own assault pop-tart. The winner of the assault pop-tart challenge, as determined by The Parson, will receive a gift card or an awesome toy gun. Our Sunday School teachers will be teaching from the Biblical texts about freedom, tyranny and the Christian's duty to God, Country and Family.
Pastor Kirkwood is of course referring to the insane rash of "toy gun" and "gun hand gesture" incidents making headlines as of late (and making it easier for people like Chuck Shepherd to find News of the Weird) – incidents that have initiated school lockdowns, prompted harsh suspensions and potentially permanent criminal records for innocent children, and have all but scared many Americans into a big state of wussiness, for lack of a better word.
The parson says he got the idea from an article he read titled, "Christian Parents Should Have Their Kids Play with Toy Guns," which pointed out the ridiculousness of a St. Louis Pastor's "toy gun buy back" program.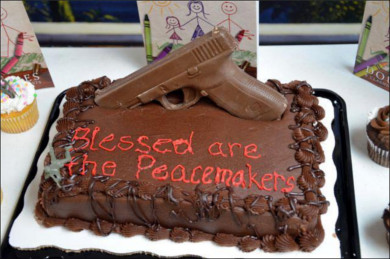 In the article, Clash Daily writer Doug Giles expressed, "…mom and dad, I say, in contrast to Rev. Rodney, to have your kid get use[d] to confronting nonsense – first and foremost in themselves. Gear them up to be a fighter and defender of that which is good. Let them play with toy weapons (if you can find any). They're not going to turn into a terrorist. It's not going to warp their wheel. Your kid has to learn that they are growing up in difficult times that demand that they be able to deal with 'snakes.' Yes, your kid needs to learn not only to be nice, but also to be strong, sacrificial and courageous."
Unfortunately Pastor Kirkwood doesn't have much faith in Second Amendment Sunday catching on throughout the rest of the country, telling Clash Daily, "you're kidding me right? The reason this country is in this condition is not because sinners act like sinners, it's because Christians don't act at all. And pastors? They're notorious cowards… anything that will come between a filled pew and a filled collection plate … the hirelings scamper away."
However, despite his pessimism, he did tell Clash Daily that at least three other pastors from different states have contacted him wanting to know more.
Recently, Maryland Senator J. B. Jennings proposed legislation targeting overzealous accusations of children making gun gestures and others armed with harmless toaster pastries and computer images of guns.
Maryland Senate Bill 1058, entitled, "Education – The Reasonable School Discipline Act of 2013," would prohibit "a principal from suspending or expelling a student who brings to school or possesses on school property a picture of a gun, a computer image of a gun, a facsimile of a gun, or any other object that resembles a gun but serves another purpose," prohibit "a principal from suspending or expelling a student who makes a hand shape or gesture resembling a gun," and in general requests a reasonable approach in discerning real threats, that should be treated as such, from "children being children."
Despite numerous schools being forced to eat crow for their overreactions, the absurdity continues as one school in Massachusetts demonstrated earlier this week when it apprehended a student for possessing a neon water pistol.
Prison Planet.com editor Steve Watson has been keeping a running tally on the absurdness:
Last week a third grader in Michigan was reprimanded by school officials when he brought a cupcake to school with a plastic toy soldier, holding a gun, on top of it.

A ten year old Virginia boy who was arrested for taking a plastic toy gun to school is now facing a potentially permanent criminal record over the incident.

A student in Florence, Arizona was recently suspended because he had a picture of a gun on his computer.

A six-year-old kindergartner in South Carolina was suspended for taking a small transparent plastic toy gun to school for a show and tell.

A day before that incident we reported on the five-year-old in Massachusetts who faced suspension for building a small toy gun out of lego bricks and play-shooting his classmates.

We also reported on an incident that erupted when a discussion between two children about a toy nerf gun caused a lockdown and a massive armed police response at two elementary schools in the Bronx.

In another incident, a Long Island high school was also placed on lock down for 6 hours in response to a student carrying a toy nerf gun.

In yet another recent incident, a five-year-old girl was suspended after a three hour grilling, and described as a "terroristic threat" when she brought a pink bubble gun to school.

A South Philadelphia elementary student was searched in front of classmates and threatened with arrest after she mistakenly brought a "paper gun" to school.

A 6-year-old boy was suspended from his elementary school, also in Maryland, for making a gun gesture with his hand and saying "pow".

Days after that incident, another two 6-year-olds in Maryland were suspended for pointing their fingers into gun shapes while playing "cops and robbers" with each other.

In Oklahoma, a five-year-old boy was also recently suspended for making a gun gesture with his hand.

And finally, a 13-year-old Middle School seventh grade student in Pennsylvania was also suspended for the same hand gesture.
By the way, the ultimate turmeric and inflammatory support Bodease is back in stock at 40% off!