Janine Stanwood
Local10.com
November 28, 2012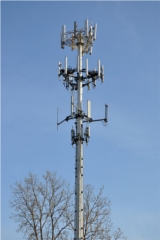 Photo by Joe Ravi, via Wikimedia Commons
The city of Pembroke Pines wants its residents to know that cell phones could be dangerous and linked to cancer. A newly-passed resolution was inspired by a resident who believes his brain tumor was caused by his mobile device.
"A lot of scientific data has to be done with it and the ordinance is kind of generic but it makes people aware," said Pines mayor Frank Ortis.
Pines resident Jimmy Gonzalez had tumors removed in his brain above his left ear, his left hand, and near his hip. All places where he said his phone was pressed for long periods of time.
"I kept getting headaches," Gonzalez said. "One day I realized I hold my cell phone with the same hand, up against this ear and when I was done, I would put it in to these pockets."
The Emergency Election Sale is now live! Get 30% to 60% off our most popular products today!