Daniel Halper
Weekly Standard
November 9, 2012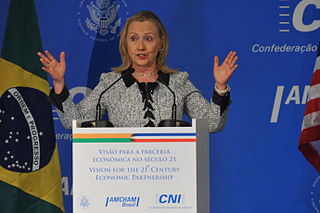 Photo by Antônio Cruz/ABr, via Wikimedia Commons
Hillary Clinton still intends to step down as secretary of state. That will take place likely "days" after President Barack Obama's second inauguration in January.
"The Secretary has been honored to serve as President Obama's Secretary of State, and has loved every minute of leading this Department and being part of the State family," a Clinton spokesman says in an email. "But yes, you can confirm yet again that she's been clear about her intention to leave after the first term."
When asked for clarification on what date Clinton would step down, the spokesman, Philippe Reines, says, "She has said that she wants to ensure continuity, and realizes the confirmation of her successor might take a period of days beyond that."
The Emergency Election Sale is now live! Get 30% to 60% off our most popular products today!