Infowars.com
January 28, 2014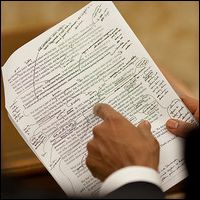 The White House has released advanced excerpts of President Obama's State of the Union Address in which he admits he will continue to usurp power from Congress.
"Some require congressional action, and I'm eager to work with all of you," he will say according to the excerpts. "But America does not stand still — and neither will I."
"So wherever and whenever I can take steps without legislation to expand opportunity for more American families, that's what I'm going to do."
The Reopen America Back to School Special is now live! Save up to 60% on our most popular items!