Kurt Nimmo
Infowars.com
July 5, 2013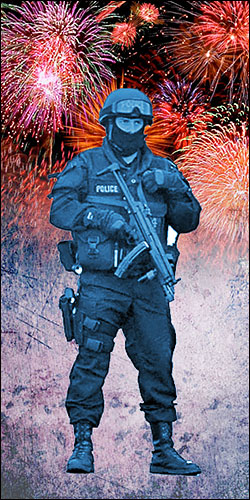 Police in Las Vegas, Nevada, sent in a SWAT team and locked down an entire neighborhood in response to somebody firing shots into the air, a common occurrence during July 4th celebrations.
The Las Vegas Metropolitan Police Department told a local news station it "believes the gun is in a home in the area or a vehicle and they obtained a search warrant from the District Attorney to put the neighborhood on lockdown while they look for the gun."
After taking a number of people into custody, a SWAT team was sent in to "clear" the area. The police told residents to evacuate, but none elected to do so.
Las Vegas Hosted Gun Grabber Mayors
In June, the United States Conference of Mayors (USCM) held its annual meeting in Las Vegas.
According to a Mayors Against Illegal Guns press release, the USCM called on Congress to rollback the Second Amendment and impose a background check on all firearms sales and add mental health and other health records to the National Instant Criminal Background Check System, or NICS.
Mayors Against Illegal Guns was founded by New York City Mayor Michael Bloomberg and Boston Mayor Thomas Menino. Bloomberg contributed $3 million of his own money to fund the group largely comprised of Democrat mayors.