Chris Eger
Guns.com
April 11, 2014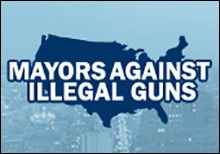 Mark Boughton, current mayor of Danbury, Connecticut, announced Wednesday that he was leaving Mayors Against Illegal Guns.
This comes as Boughton, the longest serving mayor in the state, is in the middle of a campaign as the Republican candidate for Connecticut Governor's office.
"As a member of the Connecticut General Assembly, I was a strong supporter of the rights of law-abiding gun owners and sportsmen in Connecticut. This remains my position today," Boughton said in a statement released April 9.
RELATED: 50 of Bloomberg's Mayors Quit After Gun Confiscation Plan Leaked
RELATED: Mayor: Nationwide Gun Confiscation Is Goal of Mayors Against Illegal Guns
Eliminate unwanted invaders from your body with Living Defense Plus now at 50% off!