Adan Salazar
Infowars.com
January 22, 2013
A North Chicago man's death following a police encounter has been reclassified as a "homicide" after a second medical examination revealed that he would not have died "but for the actions of police."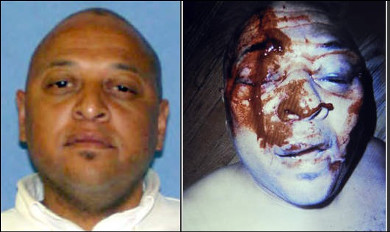 Darrin Hannah, 45, before and after brutal police encounter. Images courtesy of the
Chicago Sun Times
.
Officers went out to North Chicago resident Darrin Hanna's apartment on November 6, 2011 responding to a domestic disturbance call. Witnesses say about 20 minutes later Hannah was wheeled out of the apartment on a stretcher with a sheet covering his face.
He was taken to the Vista Medical Center East hospital where he died a week later.
Hanna, 45, was reported to have lunged at police with fists clenched yelling, "Shoot Me!" at which point he was restrained by police while they initiated multiple baton beatings and Taser shocks. At least 11 Taser marks were found on his body, according to the initial autopsy, despite police reports only mentioning two or three Taser attempts.
Originally previous Lake County coroner Artis Yancey had classified the death as "undetermined" saying a "combination of complications," including "Acute and chronic cocaine abuse, physical trauma and restraint, Taser restraint, poorly controlled hypertension and chronic renal insufficiency," all played a part; however, newly-elected coroner Dr. Thomas Rudd re-examined the evidence and has declared that Hanna would still be alive "but for the actions of police."
"In making this judgment, I used the National Association of Medical Examiners Manner of Death Classification principle that states 'but for the injury (or hostile environment), would the person have died when he or she did?'" Rudd stated, according to the Chicago Sun Times. "This logic is often cited as a way to determine whether a death should be classified as natural, or non-natural, i.e. homicide, accident, or suicide."
"It must be emphasized that the classification of homicide for the purposes of death investigation is a neutral term and neither indicates nor implies criminal intent, which remains within the province of legal processes," Rudd was quick to point out.
The original findings set off a wave of protests dedicated to seeking justice and accountability for Hannah.
The Sun Times reported that Officer Brandon Yost, a six-year police force veteran, was fired after an independent, internal investigation found that he had "lied when he said Hanna tried to bite and head-butt him and that he also lied on a Use of Force Report." Another officer, Arthur Strong, was suspended for 30 days "for falsifying a report by claiming Hanna came out of the bedroom swinging a flashlight." Five other officers involved in the incident are not mentioned in subsequent reports.
The new ruling lends credence to Hannah's girlfriend Dionne Wilcox's version of events.
Since that night, Wilcox and others have argued that Hannah's death was misreported by police and members of her own family.
According to the Sun Times:
"She said Hanna had heard a rumor that she was cheating, and that after they argued, he slapped and punched her when she tried to leave the apartment."

"Wilcox said she took a bath to calm down and that she and Hanna were sitting on the end of the bed in the dark when police broke through the apartment door with their guns drawn. Hanna did not yell "Shoot me, shoot me," as officers reported, Wilcox said, but stood up and walked toward the door."
In April 2012, a Freedom of Information Act request produced police audio of the event.
Listening to the audio, Hannah can be heard yelling, "I was down! They're killing me!"
According to the Tribune, one of the family's attorneys "argued that the tapes show police had subdued Hanna within 12 seconds, that he was compliant, not combative, and coherent but terrified. Yet by the time an ambulance took him away, he was beaten almost unconscious, and was mumbling incoherently, according to the state report."
Ralph Peterson, a member of Hannah's family, says he's relieved that there is justice being done: "I'm glad to see the wheels of justice are turning… We're overwhelmed because we've been saying it was homicide since 2011. Here it is 2013 and they're just now realizing it."
The Emergency Election Sale is now live! Get 30% to 60% off our most popular products today!