Jon Matonis
Forbes
November 8, 2012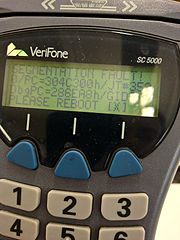 Photo by secretlondon123, via Wikimedia Commons
Travelers leaving or entering the United States have long had to declare aggregated cash and other monetary instruments exceeding $10,000. Now, under a proposed amendment to the Bank Secrecy Act, FinCEN (Financial Crimes Enforcement Network) will also require travelers to declare the value of prepaid cards that they are carrying, known now as "tangible prepaid access devices."
Expected to be finalized by the end of this year, the cross-border reporting modifications stem from a broader October 2011 definition of payment methods and form factors that replaced the term "stored value" with the term "prepaid access" in an effort to more accurately describe the process of accessing funds held by a payment provider.
Enforceability falls to U.S. Immigration and Customs Enforcement and U.S. Customs and Border Protection both within the Department of Homeland Security, which is already developing advanced handheld card readers that can ascertain whether a traveler is carrying a credit card, debit card, or prepaid card. This differentiation is important because only prepaid card balances will need to be added to declaration report forms.
The Emergency Election Sale is now live! Get 30% to 60% off our most popular products today!